Importance of Custom Website Development for Businesses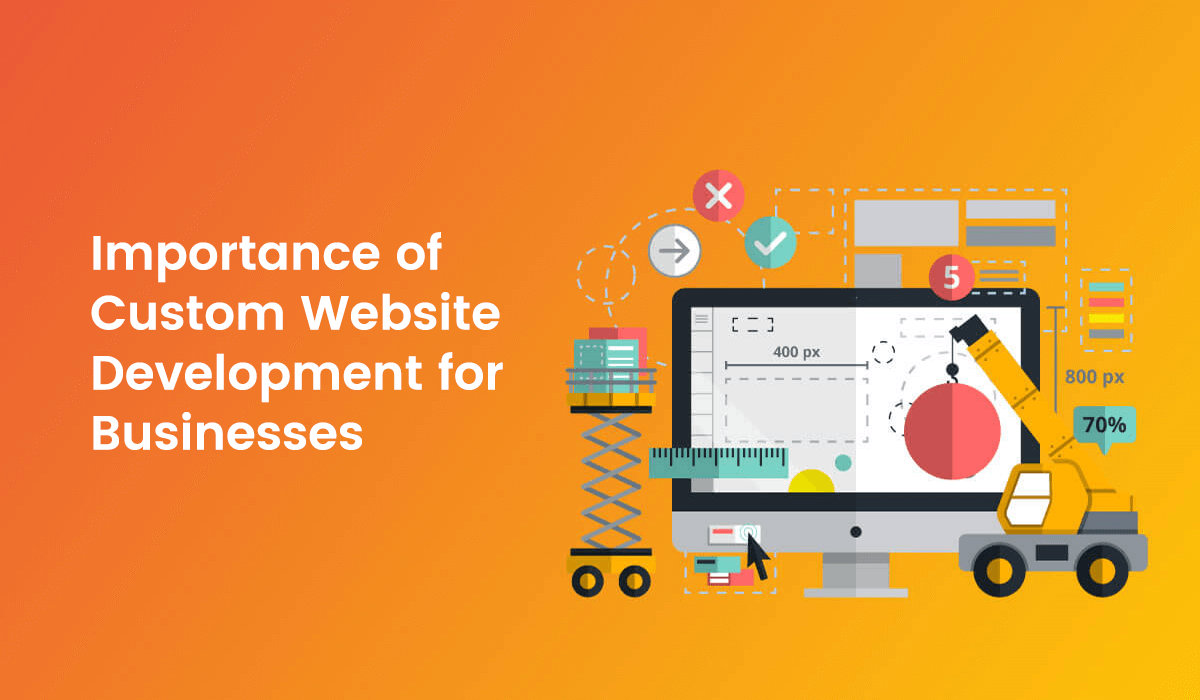 In this competitive world, having a business website is imperative. As each business has unique aspects, a well-developed and attractive website is compulsory to stay apart from the crowd. You will notice all primary and even small companies are opting for custom website development. After all, your website works as the visual representation of your brand and its professionalism.
Apart from the look or visual experience your visitors first encounter, many other factors make a website productive. The design of your site is indeed a primary thing that the visitors notice. However, the features, functionality, scalability, and user-friendliness make the websites successful or unsuccessful.
Why Should Choose Custome Web Design & Development?
You should make your site professional-looking and consider the above aspects. That is why businesses are opting for a web development company, to ensure the website will enable you to improve your venture's visibility among people and help your firm.
Many businesses use website builder templates. As a result, they cannot customize the design and structure of the site to meet their business requirements. Due to this, those sites will look like many other websites. However, by opting for any reputed and professional custom eCommerce development services, you can develop your website as per your need and specifications. 
There are no restrictions on its design and overall functionality. It not only helps you to give your site a unique look, but you can also set the navigation uniquely that will meet your visitors' requirements. Besides, the customization also enables you to build dynamic e-Commerce pages, forms, and many other things that consist of certain information that people are looking for. Thus you will get complete control over your site, and you can customize it whenever you want.
When you use CMS or website builder templates, you will get functions that might be useless for you. All these will significantly affect the site loading time, and as a result, your visitors never prefer to visit your site. As you might know, website loading times are an inevitable part of a website, determining to land and losing a customer. It is so when people use smartphones to access the site. So, in such cases, if you opt for custom website development, it will assist you in minimizing unneeded functionality. It will allow you to incorporate only the essentials, and as a result, it never affects the loading time negatively. Thus, a custom website will optimize the functionality of a website and reduce load times significantly.
Website security is one of the crucial functions. Thus, while developing a website, you should ensure that the site stays safe from hackers and other potential threats. When you use CMS to build a site, the website is more vulnerable to security breaches. It is so because if a site gets breached on the platform, you also have to compromise with data breaching. But if you opt for customized web development services, it will help you incorporate multiple security features like screen reader support enabled features and many others. Not only this, but it will assist you in maintaining your website's security in the below ways.
Advanced coding methods like proprietary source code

 to keep data secure

Incorporate SSL security technology for added security

Hosting the site in a more safe environment 
All these methods adequately diminish the risk of data breaches, and as a result, you can erode the confidence of your potential customers to access your site.
Scalability and flexibility
When you develop a website for your venture with assistance from one of the best website development companies in Bangalore, you will get a user-friendly approach. The developers can scale your site's design process and make essential adjustments according to your need and specification. As the developers develop a blueprint before creating the website, you can customize it as needed. You will not get such flexibility and scalability in the template websites as they contain several useless codes that you can never edit. Thus, with customized building, you can create a website with enhanced scalability and flexibility.
SEO optimization capability
Custom website development enables easy SEO optimization methods to increase your site's ranking on top of any search engine. Due to this unique capability, if you opt for it, you can get a better ranking and also significantly improve your ROI. Therefore, it is one of the chief importance due to which the business owners are opting for customized web development services to achieve success.
Wrapping it up
So, you can see the importance of custom website development is immense. When you select it, you can make your website stunning and user-friendly. It will also enhance your site's security, incorporate proper SEO to increase its visibility, reduce the site loading time, and much more. So, needless to say, you should give it a try to make your venture a profitable one.