Movavi Video Editor Review
Movavi Video Editor is an easy-to-use and powerful application that can quickly transform your home videos into something truly special. With a wide array of features, Movavi makes it simple for users to create beautiful movies from existing footage with just a few clicks. Editing basics such as trimming and splitting clips are available right at your fingertips. Users can also add titles, music, and special effects to bring their videos to life.
In short, Movavi Video Editor is an excellent choice of a video editor with no watermark for creating stunning vlogs, social media content, and family movies. Its powerful features and user-friendly design make it easy to create impressive videos without any prior knowledge or experience with video-editing software. Whether you're looking to create memories of your family vacation or take your YouTube channel to the next level, Movavi can make sure that every project turns out just right. With its intuitive controls and wide array of options, users have all they need to turn their vision into reality.
Interface
The user interface of Movavi Video Editor is designed with the novice in mind – there's no need for deep technical understanding or experience. All commands are clearly laid out, making it simple to start editing immediately. A wide variety of tutorials and helpful hints can be accessed directly from within the program, so users never have to feel overwhelmed by unfamiliar features or tools.
Upon launching the application, users are greeted with a clean and well-organized layout, allowing for effortless navigation and swift access to various editing tools. The main workspace prominently displays the video timeline, where users can arrange and edit their clips. Above the timeline, users can find a toolbar with essential editing functionalities, including options to cut, trim, and split clips, add transitions, and more.
The drag-and-drop functionality makes arranging clips a breeze, while the comprehensive timeline view makes it easy to add titles, music, and special effects to your videos.
The interface also offers a preview window that allows users to see real-time changes as they make edits to their videos. This feature provides instant feedback, enabling users to fine-tune their videos with precision.
Key features
Movavi Video Editor provides lots of editing features. It covers both basic and more advanced video-editing needs. The basic features include splitting, cropping, rotating, rearranging, and resizing videos.
These tools are complemented by picture-in-picture (PIP), voice-over, and speed control features. The PIP feature lets users overlay multiple videos on one screen, offering creative flexibility not found in many other free video-editing software with no watermark. Recording voice-overs can help users tell their stories in a more complex way. With the speed control feature, users can apply a slow motion effect or speed up the footage to their needs.
If you're looking for more advanced tools, Movavi has those too – users can adjust color levels, contrast, saturation, brightness, shadows, temperature, and other settings manually or make use of presents to modify colors in videos automatically.
What makes Movavi Video Editor stand out is its powerful video stabilization feature. This feature is designed to eliminate camera shake and produce smooth, stable footage. This is particularly useful when dealing with action shots or footage taken with handheld devices. Users can also adjust the accuracy of the stabilization to suit their specific needs.
Another impressive feature is the software's ability to handle multiple video tracks. Users can work on several video clips simultaneously, making it possible to create complex video projects. This multi-track editing feature greatly enhances the flexibility and creativity of the video-editing process.
Movavi Video Editor also boasts a rich selection of video effects, transitions, titles, backgrounds, and stickers. With over 150 creative filters to choose from, users can add a unique touch to their videos. The transitions and titles can be customized to fit the theme of the video, adding a professional touch to any project.
The chroma key feature is another powerful tool in Movavi Video Editor. This allows users to change the background of their videos, creating an illusion of being in different locations. This feature is commonly used in professional studio productions and can take any video project to the next level.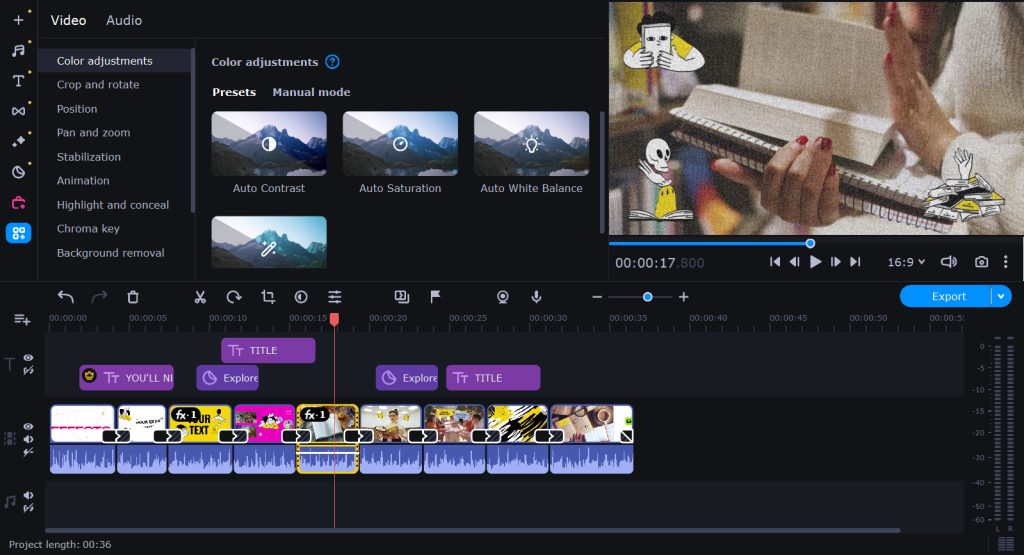 To make a change of the video background even easier, Movavi comes up with a smart tool – AI background removal. There's no need for a green screen – the smart algorithm will remove the video background automatically in a snap.
In terms of audio editing, Movavi Video Editor doesn't disappoint either. Users can adjust audio frequency levels, apply normalization, remove noise, and add special audio effects with ease. The app can also synchronize separately recorded video and audio by sound.
Another thrilling AI tool in Movavi Video Editor is noise removal. The app deletes all the undesirable noises from videos in just a few clicks, creating a clear and quality sound.
In addition to these features, Movavi Video Editor also provides support for a wide variety of formats. Whether you're working with high-definition video, 4K footage, or simple JPG images, Movavi can handle it all. This flexibility makes it an excellent choice for anyone working on diverse projects. Users can change the aspect ratio of their videos to upload them to particular social media.
Lastly, when you're finished editing your video, Movavi Video Editor offers convenient export and sharing options. It supports a wide range of video formats for export, and users can also instantly export their work to YouTube, Vimeo, Google Drive, or TikTok with just a few clicks right from the application.
Wrap up
The post-production process doesn't have to be intimidating. With Movavi Video Editor, users are provided with all the tools needed to make stunning films and videos that can be shared with friends and family in no time. With its intuitive design, powerful features, and helpful tutorials, anyone can turn their home movies into Hollywood-style films – so don't wait another day.
In conclusion, Movavi Video Editor is ideal for anyone looking for a simple yet powerful tool for their video-editing projects. From beginner hobbyists to experienced professionals, everyone can benefit from the intuitive design and robust features at your disposal. With just a few clicks, users have all the tools they need to turn their footage into a work of art that will be sure to impress family and friends alike. Whether you're a novice or an experienced editor, the app is sure to take your video projects to the next level. Start creating great memories today with Movavi Video Editor!