OST to PST converter tool EdbMails: Expert Review
An OST file is inaccessible when the Exchange or IMAP server profile or mailboxes are unavailable. Users want to recover their mails quickly but are confused which tool to employ. 
EdbMails OST to PST tool claims to convert encrypted and password-protected OST files easily. In this review, we assess the tool's value for money and user-friendliness. 
In a nutshell, this utility can recover and convert OST to PST. We also observed that an OST file can be easily migrated to a Microsoft 365 (Office 365) server or a live Exchange server. This program is suitable for converting emails, calendars, contacts, journals, and other OST data to a versatile Outlook PST format. Keep reading to learn more about the software's features and functions.
Why is EdbMails the finest OST to PST converter?
OST Recoverability
Inaccessible OST file recovery
Based on our tests, EdbMails recovers inaccessible OST files and converts them to Outlook PST faster than other programs. Unlike other tools, the user interface is clean and easy. Saving the recovered OST file in other formats such as EML, MHT and HTML is a breeze with this tool. EdbMails also has granular recovery, which restores emails, contacts, calendars, and tasks without missing or losing the data. 
OST file recovery from corruptions
We wanted to test EdbMails' recovery feature again, therefore we used an OST file (1GB) that was corrupted owing to Outlook issues. We couldn't open or read this OST file, so we utilized EdbMails to test it. We must add that this application works flawlessly and recovered this OST file. This is a full-featured software that maintains consistency and even allows you to read messages from its interface.
OST Conversion
Converting metadata in emails
Then we examined meta-data attributes in messages such as Received Date, Sent Date, Time, To, and Cc, which are critical for legal, backup, and verification purposes. We tried converting a whole mailbox, and EdbMails converted them with complete integrity.
Maintains the source folder structure
Any file converting program should be able to preserve the identical folder structure. As a result, we don't want to open a file and find that the information has changed and we have to start all over. Surprisingly, EdbMails perfectly retains the internal organization and hierarchy of the source folder structure on the target.
Direct OST to O365 or live Exchange migration feature
It is also possible to directly import OST to a live Exchange or Office 365 account. This is handy for those who want to switch directly to Office 365 without any intermediate conversions or hops. Using a trial Office 365 account, we discovered that EdbMails incremental migration feature prevents duplicates when transferring content from the same PC to the same target (for subsequent or successive migration projects).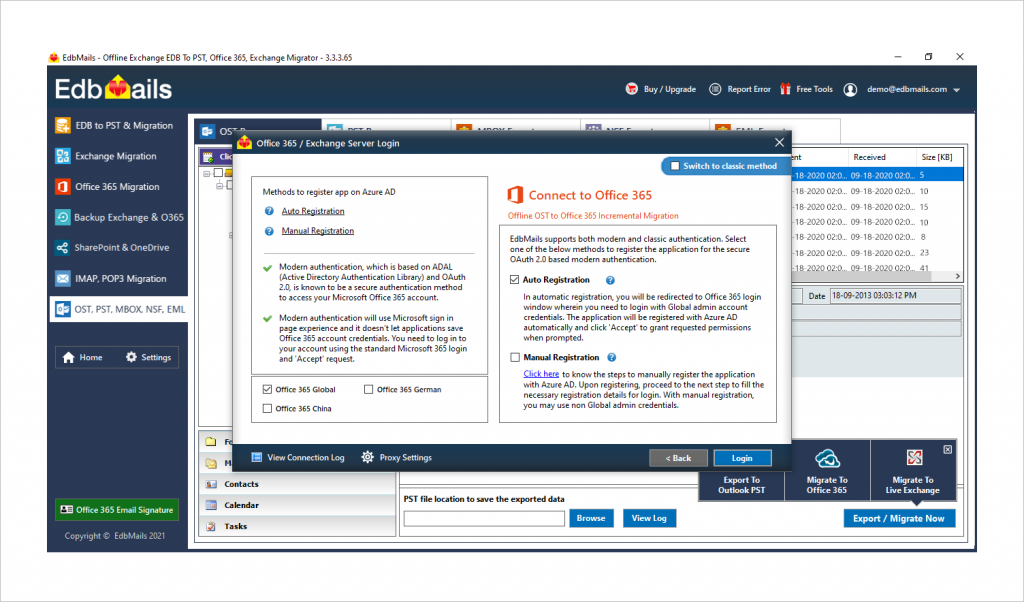 Software Version and Pricing
Free Trial Version: Download a free trial version from EdbMails' official website to learn more about the software and its capabilities (Ad-free and virus-free software requiring no credit card or other details for downloading). The free trial version lets you export 30 items from each OST folder and test all the features without time limits.
Pricing Plans and Cost: EdbMails offers Personal, Corporate Premium, and Technical licenses for OST recovery and conversion. Individuals, small enterprises, governments, and educational institutions can use the Personal edition to convert OST to PST. With a Corporate Premium License, the software can be used on numerous computers for corporate, Small and Medium Enterprises, Government, and Educational institutions. Using the software's technical license edition permits unrestricted installation on multiple PC's and multiple locations for Data Recovery and Computer Repair businesses.
Who is the software intended for?
Outlook is widely used to send and receive emails. Outlook helps students, home users, business executives, and entrepreneurs keep track of key dates, events and communicate with family, friends, and peers. To resolve OST file issues and directly convert OST files to PST files, use EdbMails OST converter tool. It recovers inaccessible OST files and converts them to multiple file formats for easy opening and viewing.
OST to PST Software Specifications
Market leading and professional OST to PST converter
According to the software's popularity, it has received positive Trustpilot reviews and has aided many users in recovery and conversion. We rate it 5 stars because of its lightweight feature, simplicity and ease of use.
Some Aspects of the software security features
EdbMails is ISO 27001/27018 compliant. It uses Microsoft APIs to migrate data and therefore does not store your passwords or data on its systems. Your Office 365 credentials are encrypted using TLS and OAuth 2.0 during authentication.
How can I get EdbMails OST to PST software?
The software comes in three licenses as outlined previously. A user can pick one of these based on their needs. The official website includes all the information you need to buy the software (including in-detail system requirements). The purchase and download are digital. The application does not require a separate licensing KEY after purchase. That is, your account will be upgraded to the license type you have purchased. Example: If you have purchased the Corporate Edition, your license is attached to the email address you used to buy it. You must first download and install the application before logging in with your EdbMails account credentials (email address and password).
How to use EdbMails software to convert OST to PST?
Initially, we used the tool's demo version. After installation, select the OST recovery and conversion option. Following the OST file selection, the utility recovers all contents and shows them in a highly organized manner. Now you can export the required contents to PST. In our opinion, the program is very user-friendly and simple to use. It removes all complexity and is easy to follow.
EdbMails Help and Support section
Any software-related issues or questions can be clarified through EdbMails live chat, telephone, or email. When it comes to technical support, the team is quite courteous and replies to any questions in a timely manner. In contrast to other tools, the software comes with a lifetime license and free upgrades for the life of the software.
Additional Discounts and Deals
Special offers are available for the software, which can reduce the price by up to 75% or more. The discounts can be found on the product website or by contacting the support team to customize the product bundle to your specific needs.
Is it worth paying for software?
EdbMails OST recovery program can recover and convert inaccessible and unreadable OST files into other formats. No matter how large the OST files are, it can recover and convert all of them. Overall, the program is very reasonably priced and accessible to all users. It is unquestionably value for money when you consider its flawless recovery and conversion, 24X7 customer support, and ease of use for any non-technical user.
Pros
Cons

The software is straightforward to use.

No pause/resume for PST conversion.

Even erased and deleted mailbox items can be recovered.

The trial version has a 30 folder restriction.

Excellent compatibility with all Windows versions

24-hour, 7 days free tech help.

Unlimited OST recovery and export
Concluding words
We tested the EdbMails OST to PST converter software and discovered it to be the best fit for the job. The tool is simple to use, inexpensive with an excellent user interface. This OST to PST converter software converts and restores inaccessible OST files without a hitch. If users want more features, the software can directly import the OST file into a new Office 365 account or any Exchange server. When all of the aforementioned factors are considered, it truly is a 5-star utility.