Smart Exchange Server On-Premise 2013 To Office 365 Migration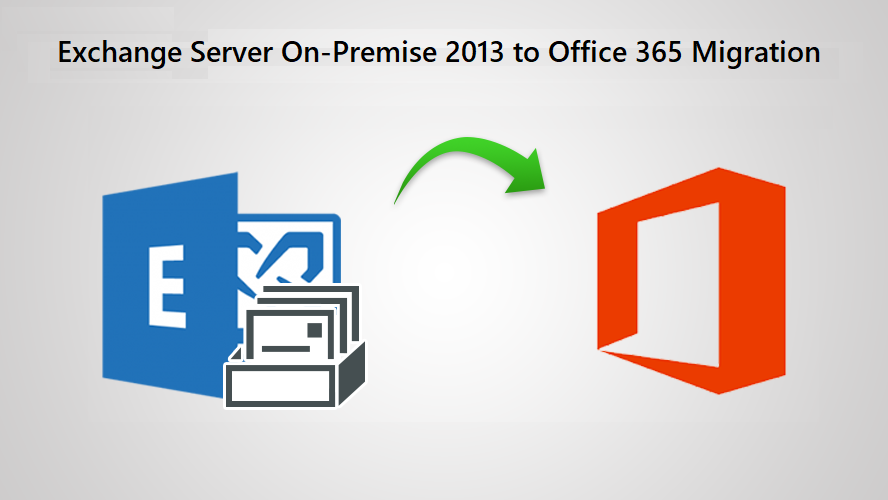 Users want to know the solution for Exchange server On-Premise 2013 to Office 365 migration. As it is said, people tend to go where they receive more in less effort, users are willing to switch to Office 365 for the same.
Whether it is On-Premise Exchange or Office 365, both are email exchange platforms, and when a user chooses any of them, the advantages go exclusively to Microsoft.
However, there are certain functionalities of Office 365 which make people choose it over Exchange 2013:
To reduce the cost, space, and resources that are required for the upkeep of aged servers, it is beneficial to perform Exchange server On-Premise 2013 to Office 365 migration.
If you are using an On-Premise system then you have to acquire separate server licenses, by moving to Office 365, you forgo this cost.
Office 365 offers seamless scalability as it can be added and cancelled when needed, unlike On-Premise Exchange Server 2013, where client access license (CAL) cannot be returned once used.
In this article, we will examine two methods for performing the migration process, one being the manual, other being the automated process. If a company intends to execute a large-scale migration, the direct route is suggested.
Techniques for Exchange Server On-Premise 2013 to Office 365 Migration
The migration methods that are available are:
Cutover migration
Staged migration
Hybrid configuration
Intelligent migration
All the aforementioned methods are useful to the organizations trying to export their data in bulk. However, there are certain things you need to take care of while performing the first three migration procedure.
For an easy, time-saving, and quick migration, you should use the Exchange to Office 365 Migration Tool.
First, the manual methods.
Method 1: Using Manual Ways to Move Data from Exchange 2013
The following are the techniques for direct Exchange Server On-Premise 2013 to Office 365 migration:
Cutover Migration: If you want to migrate all mailboxes (less than 2,000 mailboxes) at the same time, you can use this migration procedure. It also works with Exchange 2003, 2007, 2010, and 2013.
Staged migration: When you have user accounts that have exceeded 2,000 mailboxes, use staged migration. If you are moving from Exchange 2003 or 2007, you can execute a staged migration.
Hybrid migration: Hybrid migration keeps both on-premises and online mailboxes active while progressively migrating data to Office 365. You can transfer Exchange 2010 mailboxes (150 to 2000 per user) to Office 365 in tiny batches.
Drawbacks to Migrate On-Premise Exchange 2013 to Office 365 Manually
The method results in extended downtime since it takes a lot of time (a few weeks or months).
Exchange administrators must be knowledgeable about mailbox migration.
When moving data to Office 365, data loss is possible.
Complexity of the process makes it a less suitable solution for migration.
Now, for a swift and uncomplicated migration process, you can use the software as mentioned above. Find out more about it in the next segment.
Method 2: Using Smart Solution to Transfer Data from Exchange On Premise 2013
This tool is a professional-recommended software that allows you to migrate Exchange Server On-Premise 2013 to Office 365 in bulk.
By enabling the Date-Based filter, this tool can be utilized for selective data export. It allows you to specify a time period from which the software will export data.
This application has several amazing capabilities that enables you to effortlessly transfer complete mailbox data such as emails, calendars, and contacts to Office 365 without losing any data.
At the same time, maintaining the data integrity. Also, there will never be a restriction on the amount of data that may be moved to Office 365.
Follow the steps outlined below to learn how to utilize the tool to migrate Exchange Server On-Premise 2013 to Office 365:
Step 1: After downloading, run the tool and enter the Source and Destination accounts.
Step 2:  Now, under Workload Selection, select the appropriate Categories and Date-filters.
Step 3: Fill in the Exchange Admin ID and Password with the Server IP address and Validate them.
Step 4: Enter your Office 365 Admin Email ID and Application ID, and then confirm your rights.
Step 5: Import Users from a CSV template or get all user mailboxes from the Exchange Server.
Step 6. Select Start Migration and wait until all of the mailboxes have been successfully moved.
Concluding Words
To migrate Exchange Server On-Premise 2013 to Office 365 is not an easy operation.  Since migrating from one platform to another is a difficult process. It entails a significant amount of danger, money, and effort. As a result, migration necessitates meticulous preparation and execution to minimize data loss.
Hence, the techniques for migrating from Exchange 2013 are covered in this article. For seamless data transmission, the intelligent tool is suggested.