SwifDoo PDF: A Comprehensive Guide to This Revolutionary PDF Software
PDFs or Portable Document Formats have been around for more than two decades now, and they are still the preferred file format for sharing and distributing various types of documents. However, working with PDFs can be challenging at times, especially when it comes to editing, converting, or merging files. That's where SwifDoo PDF comes in.
In this blog post, we will take an in-depth look at SwifDoo PDF, a revolutionary PDF software that offers a range of features for working with PDFs. We'll explore its functionalities, ease of use, pricing, and more to help you decide if it's the right software for your PDF-related needs.
What is SwifDoo PDF?
SwifDoo PDF is a comprehensive PDF software that offers a range of features for working with PDFs. It allows users to edit, convert, merge, split, compress, and protect PDF files with ease. The software is designed to be user-friendly and intuitive, making it easy for anyone to work with PDFs without any technical knowledge.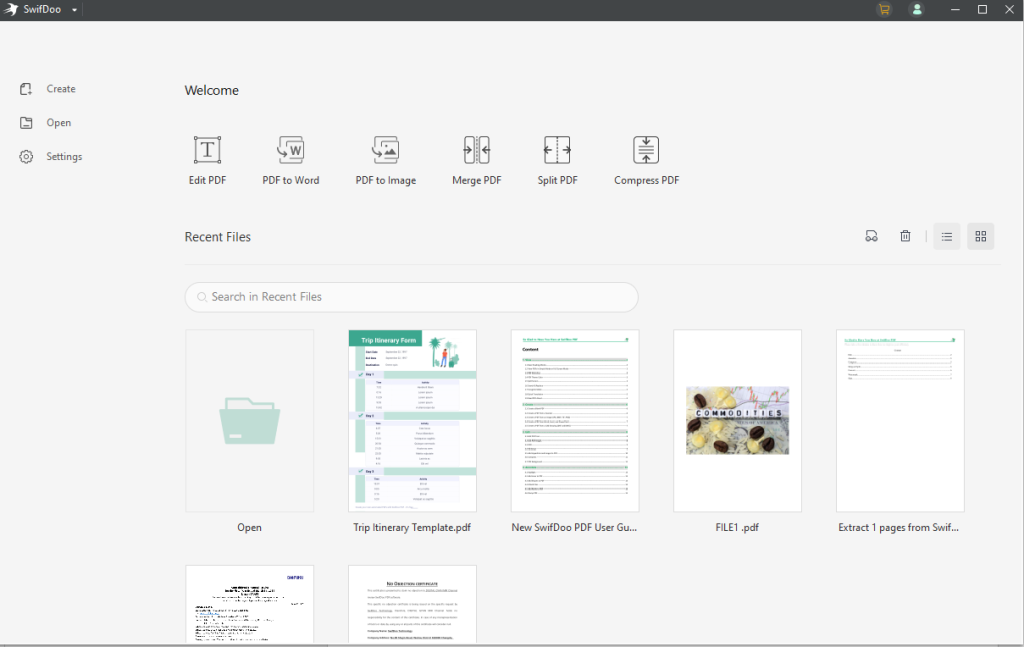 Features of SwifDoo PDF:
PDF Editor: SwifDoo PDF offers a powerful PDF editor that allows users to modify the content of their PDFs. It includes features like adding, deleting or modifying text, images, and pages. The editor also allows users to highlight, underline, or strikethrough text, as well as adding comments, watermarks, or hyperlinks.
PDF Converter: SwifDoo PDF allows users to convert PDFs to various file formats, including Word, Excel, PowerPoint, HTML, and more. It also enables users to convert other file formats to PDF.
PDF Merger: With SwifDoo PDF, users can easily merge multiple PDF files into a single document. It also allows users to rearrange pages, delete or add pages, and more.
PDF Splitter: SwifDoo PDF offers a PDF splitter that allows users to split a PDF into multiple documents based on specific pages, bookmarks, or even text.
PDF Compressor: SwifDoo PDF can compress PDF files to reduce their file size without compromising their quality. This feature is especially useful for sharing large PDFs via email or cloud storage.
PDF Protector: SwifDoo PDF allows users to password-protect their PDFs, add digital signatures, and set various permissions to control who can view, edit, or print their PDFs.
Pricing and Plans:
SwifDoo PDF offers three pricing plans, including a free plan, a standard plan, and a pro plan. The free plan allows users to use some of the features, such as editing and converting PDFs, but with limited functionality. The standard plan costs $4.99 per month, and the pro plan costs $9.99 per month, with more advanced features like merging, splitting, and compressing PDFs, as well as access to priority support.
SwifDoo PDF License code and how to activate it
However, if you have purchased a license for SwifDoo PDF, you can activate it by following the steps below:
Open SwifDoo PDF on your device.
Click on the "Activate" button located in the upper right corner of the interface.
In the activation window, enter the license code that you received when you purchased the software.
Click on the "Activate" button to complete the activation process.
If you encounter any issues while activating your license, you can contact SwifDoo PDF's customer support for assistance. They will be able to help you resolve any activation problems and ensure that you can use the software to its fullest potential.
Conclusion:
SwifDoo PDF is an excellent PDF software that offers a range of features for working with PDFs. It's user-friendly, affordable, and versatile, making it a great choice for anyone who works with PDFs regularly. With its powerful features, users can edit, convert, merge, split, compress, and protect their PDF files with ease. Whether you're a student, a professional, or just someone who wants to manage their PDFs efficiently, SwifDoo PDF is definitely worth checking out.
Don't forget to check out WebTechTips, a tech, web, and gaming-related website that offers a wealth of information on various topics related to technology.