Systweak Antivirus Review, Features, Pros, Cons and Pricing
Unlike Mac, Windows operating systems are highly vulnerable to malware, spyware and virus infections. Microsoft Windows 10 operating system has evolved a lot and strengthen the security with inbuilt Windows Defender however it is not good enough for overall protection and enhancement of the operating system. Windows Firewall can't prevent your computer from all the infections hence we look for the best antivirus for Windows 10.
Systweak Antivirus has been in demand for quite so long, hence we decided to test, review and compare its features with the best antivirus software for Windows. We tested Systweak Antivirus on the basis of compatibility, security features, Browser security, Email security, Real-Time Security, Gaming compatibility, Automatic Scheduling, Timely Updates, Parental Control, Internal and external drives scan, and additional features. If an antivirus clears all these security checks, we can consider it a robust and the best antivirus for Windows 10.
| | | |
| --- | --- | --- |
| Overview | Rating | Performance |
| Features | 92% | Excellent |
| Pricing | 96% | Excellent |
| User-Friendliness | 85% | Very Good |
| Automatic Updates | 100% | Excellent |
| Security Scan | 98% | Excellent |
| Privacy Scan | 100% | Excellent |
| Real-Time Scan | 100% | Excellent |
| Customer Service | 82% | Very Good |
Price: USD $39.95 / Year
Platform: Windows 10, 8.1, 8 & 7 (SP1)
Pros:
        User-friendly and easy navigation
        Optimization to boost system performance
        Easy to install, configure & use Antivirus program
        Fight against existing & newly identified online threats
        Automatic Updates of the database for robust security with the latest threats
        Efficient in finding & removing Potentially Unwanted Programs (PUPs)
        Offers Additional browser extension to block popups and ads
        Extensive 24/7 Technical Assistance (Chat & Email)
        Free Trial with a 60-day money-back guarantee
        Advanced multi-layer defence system
Cons:
        Lack of customization options
        Only available for Windows OS
Benefits of Systweak Antivirus
        Inbuilt Startup optimization and manager
        Inbuilt software Updater for Windows applications
        Privacy protection for Safe Web browsing experience
        Real-Time Protection from all types of malicious threats
        Exploit protection and ransomware links detection
        USB instant protection from Plug & Play devices
        Security on Home Network connectivity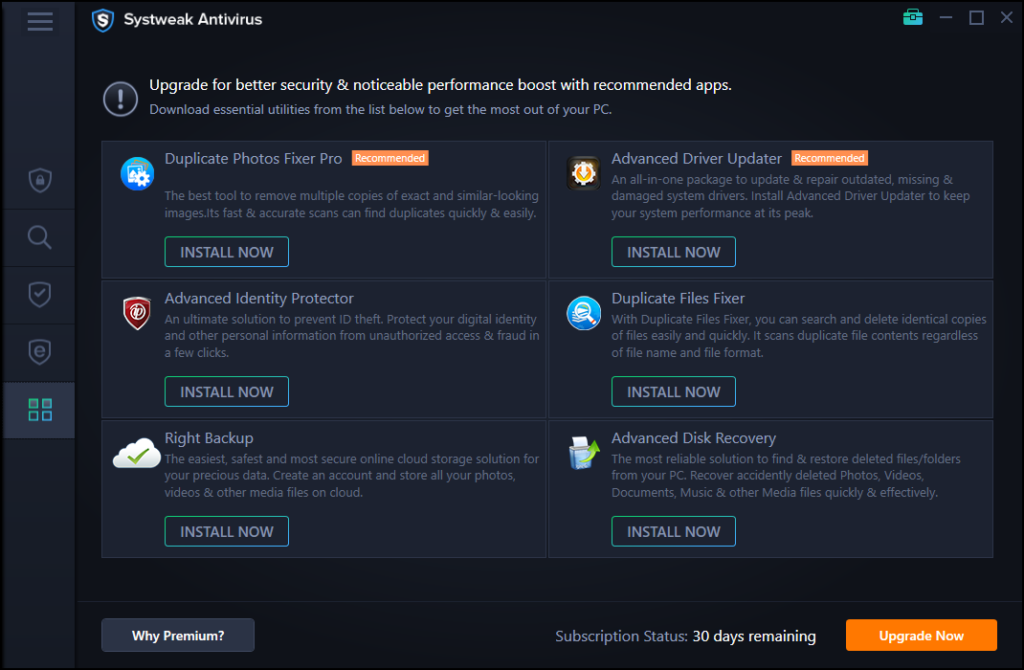 Systweak Antivirus Features
              Real-Time Protection: Systweak Antivirus offers real-time scanning on all your browsing activities and safeguards you while downloading any attachment, clicking on a link or browsing sensitive data on any website. It protects your pc from different virus like webhelper virus , and other harmful threats.
              Powered by Norton: The scan engine of Systweak Antivirus is powered by Norton Symantec to offer world-class security on your device.
              Browser Protection: This feature in Systweak Antivirus protects your identity, saved passwords, and other auto-fill information from being compromised by other browser extensions and applications.
              Cost Effectiveness: The annual subscription of Systweak Antivirus is pocket friendly and doesn't dig big holes in your pocket like other popular antivirus programs.
              Different Scanning Modes: Systweak Antivirus offers different scanning modes to fit your needs. Quick scan, Deep scan and Custom scan can keep you secure from various malicious activities.
              Optimize Startup Items: It is efficient enough to optimize your startup items to give you the fastest booting experience.
              Fights Vulnerable Issues: Systweak Antivirus promptly fights the most vulnerable issues on the computer to safeguard your computing experience. It checks system RAM usage, performance, and external connections that may affect your data security and privacy.
             Scheduled Maintenance of System Health: It performs a weekly or scheduled inspection of the system health, hard drive sectors, downloaded and uploaded files to ensure your system delivers the optimum performance.
              Custom Exception List: You can always add, edit or remove a custom exception list to bypass trusted folders from scanning and save your precious time. You can also add other storage drives or devices to the exception list.
              Secured Net-Banking: For a safer and secured Net-banking, eCommerce shopping experience, Systweak Antivirus keeps a random check and activates real-time protection shield to protect you from prying eyes.
              Best Antivirus Features: Systweak Antivirus comes with the most robust features that make it the best antivirus for Windows 10 and earlier versions.
              Ultimate Protection: Systweak Antivirus protects your computer from adware, popups, ransomware attacks, and browser hijackers for a safe browsing experience.
              60 Days Money-back Guarantee: Systweak Antivirus offers a free trial and 60 days money-back guarantee. If it doesn't fit your needs, you can always ask for money back with no questions asked.
Symptoms of Infection
Infectious files are always sent with sober files and you can't identify the difference between them. They come with hidden attributes and can't be traced by our naked eyes. Not even all the antivirus software for Windows (free or paid versions) can track such infectious files. Phishing emails, download links, attachments, software applications are transporters of infection. Your system may behave abnormally if it is already infected.
        System settings and properties changing automatically
        Experience unexpected delays, sluggish system performance
        Abnormal behaviour of your system and unexpected freezing screens
        Sudden installation of new programs, icons on the desktop or start menu
        Addition of new programs that will load automatically on your Windows Startup
        Sudden redirection to unknown and untrusted websites without your consent
        Frequent popups and new browsing windows appearing without request
        Unwanted cranky behaviour of your system, sudden reboots
If you ever encounter any such indications, it is advisable to run a virus scan using Systweak Antivirus. You can schedule quick scans on a daily basis and deep scan on a weekly basis. A weekly scan can be scheduled when your system is in an idle state.
Summing Up
The latest version of the Microsoft Windows 10 operating system has evolved to deliver its best performance. Windows Defender & Windows Firewall clubbed to protect and offer the best of security features however we can't just rely on one security shield. There is always a need for a robust antivirus program that can offer the highest level of security. There are numerous antivirus software for Windows however only the paid versions that offer maximum features can be listed in the best antivirus for Windows 10. Keep it secured and clean with Systweak Antivirus.