The Best Advantages Of an AI-Powered ERP system?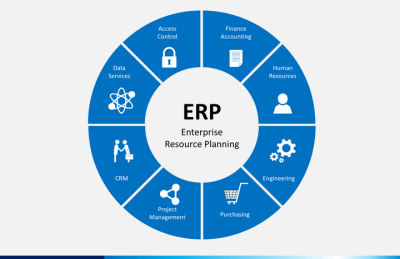 AI has become the talk of the town. Despite its relative infancy, AI is becoming the backbone of each industry because it provides greater flexibility, powerful automation, and the coveted human touch to customer-related operations. AI-powered ERP systems have caught the fancy of companies across different levels as it's helping them transform into market leaders.
According to a report by Gartner, by 2021, almost 80% of all emerging technologies will rely on AI. Although this technology is relatively new, it's creating ripples of change in every sector. Let's see how AI is revolutionizing the ERP industry and what the future beholds.
AI-powered ERP systems in the manufacturing industry
ERP systems allow manufacturing companies to revamp their processes that help increasing efficiency and improving productivity. AI-powered ERP systems take this a step further by providing scheduling and planning capabilities that allow conducting operations remotely without the need for human intervention. It has many benefits. Firstly, there is no need to be physically present at the workplace. And secondly, the scope of human errors is limited. AI-powered ERP systems also have a preventive maintenance feature that ensures that each machine part and equipment is up and running, thereby avoiding unexpected equipment failure.
AI-powered ERP systems in the retail industry
AI-enabled ERP solutions have become part and parcel of the retail industry. They help find untapped business opportunities and creating customized sales and marketing solutions for varying customers. They also help businesses to identify the right audience at the right time.
The retail industry depends on the customer's needs, wants, and aspirations, and this is where AI plays a vital role. Artificial intelligence collects and analyzes tons of data in seconds and derives valuable insights that are oblivious to the human eye. It allows creating a personalized shopping experience via chatbots that help to forge a solid and evergreen customer relationship.
AI-powered ERP systems for inventory management
Businesses cannot conduct manufacturing operations in full swing without the proper inventory. These AI-powered ERP systems allow planning, scheduling, and replenishing the stock whenever required. They also notify the purchase manager about the highest selling items on eCommerce websites that help restock essential supplies on time. Moreover, AI-powered ERP systems track products based on their frequency of profits and sales. So, you will always stock only those items that have a higher selling potential. Further, AI-powered ERP systems continuously search for vendors, suppliers, and distributors that ensure better discounts, thereby helping to reduce operational expenses in the long term.
AI-powered ERP systems for demand forecasting
Demand forecasting has become essential for businesses of all kinds. AI algorithms estimate what products are customers more likely to purchase based on factors such as:
Geography
Demography
Psychography
Customer behavior
Past experience
Purchasing habits\
Wish Lists
These factors allow deciphering the mood of the larger population, which helps increase revenues and profits in the long term. It's worth mentioning here that the proliferation of IoT devices has accelerated gathering data, both from structured and unstructured sources, and the speed of extracting valuable insights from them.
AI-powered ERP systems significantly improve customer experience
You must have heard maxims like:
Customer is the king.
Customer always wins.
Such statements are factual because today, the power has gone into the hands of the customer. Companies that have a flourishing customer base are industry leaders too. They invest in improving customer experience by implementing cutting-edge technology that helps build robust and long-lasting relationships. Better customer experience also translates into better customer advocacy. The most significant advantage is that loyal customers share feedback with peers that boost revenues.
AI-powered ERP systems have chatbots that interact with customers 24X7 and provide assistance whenever required. Customers don't have to wait to get in touch with a customer support executive. Instead, they can ask questions, gather information, and get their doubts cleared from a chatbot.
The best thing about chatbots is that companies can limit or shrink the size of their customer support team. On the other hand, they can provide top-notch support services to hundreds of customers 24/7.
Conclusion
The last decade has seen some path breaking innovations in AI. Researchers and business experts predict that AI will form the core infrastructure of every technology that comes hereafter. AI technology is also impacting the ERP market. ERP systems can now collect, sort, and analyze unlimited data in the shortest time, which wasn't possible a few years ago. These advantages allow companies to gain the customer's trust, improve process quality, and fine-tune customer experience.
Author:
Nishant Joshi likes to read and write on technologies that form the bedrock of modern-day and age like ERP, CRM, Web Apps, machine learning, data science, AI, and robotics. His expertise in content marketing has helped grow countless business opportunities. Nishant works for Sage Software Solutions Pvt. Ltd., a leading provider of Business Management Software to small and mid-sized businesses in India.