Top 5 Social Media Platforms To Earn Money At Home
What comes to your mind at first when you hear the word 'Social Media?' Is it only posting photos or videos and getting likes, comments or views? Think twice or even thrice, but this is not all about social networks. There are plenty of things beyond that.
According to the internet, social media supports the earnings of various users across the world over the last 4-5 years. In fact, it is more profitable and opportunistic compared to corporate or government jobs. However, it is not such an easy task as you need to be aware of the right track of putting effort.
So if you are looking for some extra money besides your 9-5 desk job, take a look at the section below to gain rich insights.
The Background
Having a good job that matches your skills and gives you stable money is what every person in this world wants. But what is wrong with earning some extra bucks that can give you a little luxury?
Does this sound impossible to you? Yes, it was indeed till a few years ago but not anymore.
When you can sink into social media channels from morning to night, why not use it differently by giving a twist? Earnings from social channels involve several risks, although they can provide you immense benefits if done correctly.
For example, you can work from home or your comfort places on social platforms without regular employment restrictions. The following section entails how you can exploit the top 5 social media platforms in order to get money. Keep reading!
Top Five Money Earning Social Media Platforms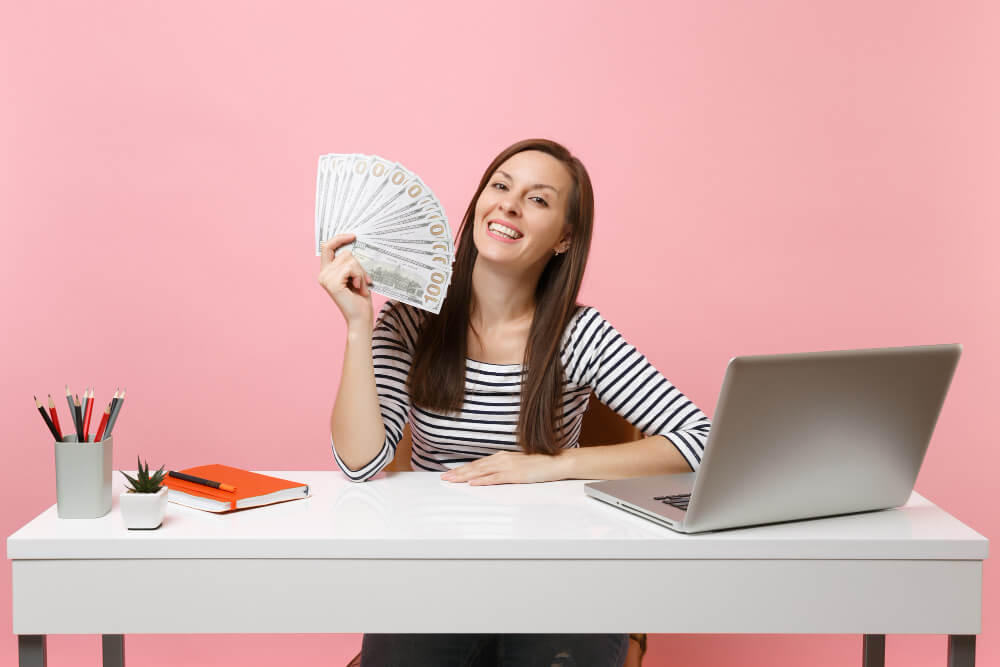 The fantastic thing about earning money from social platforms is that you can be your boss. Moreover, the client would be excited to make deals with you. Social media carries so much potential that it can even be your primary source of income if used correctly.
If you have made solid connections and steady social networks over a few years, then you are good to give it a start. Let us now move on to the steps without wasting further time.
1. Instagram Shops And Collaborations
If you explore your Instagram feed minutely, you will discover most people find it a comfortable place for business. But, do you know the reason? It is the popularity of the platform that plays the main game.
If you want to start a side business, set up an Instagram shop easily and begin to boost your income. The main point here is picking up the exact niche that suits the needs of your target audience. In addition, create good content, collaborate with influencers, and see your earnings to touch the sky.
2. Facebook Advertisements
Facebook is the first social platform to make considerable money. It acts as a freelancing tool where you can choose the genre you love and identify your niche. Finally, you are ready to rock.
Now comes the procedure – initially, you can start with creating a business page for your brand. Remember to post content constantly. The next step is to create groups having potential connections who are interested in your page or products. Furthermore, you are required to come up with Facebook Ads that would describe the business effectively.
 3. Pinterest Boards
For a long time, Pinterest has been an excellent money-making social platform. However, it has one distinctive characteristic than other regular social channels. Most importantly, it helps you create money indirectly by inviting traffic to your website where you are selling your products.
The first step is writing blogs for your website. Then create pins for your services or products on Pinterest. Whenever the user clicks a pin, it will take him to the website.
4. YouTube Tutorials
Video streaming on YouTube is a brilliant way to make real money. Nonetheless, YouTube is a vast platform with billions and trillions of content published regularly. Therefore, it is a little tough to build a sound audience. But with diligence, you indeed can; after all, it's not rocket science!
Hence, understand who your target audience is and what they want. Then start making tutorials, short coaching sessions, and reviews. Also, add keywords in the video description and captions to rank higher in the YouTube search engine. Please note that you need to be consistent to get a continuous money flow.
5. Use Twitter At Its Fullest
One of the best social sites to date for making extra bucks is Twitter. Therefore, experts have named Twitter 'Goldmine for selling products.' Do you want to hear a surprise? You can earn even $1000-2000 sales each week from Twitter. Write keyword-rich quality content and drive the audience to your business quickly.
Conclusion
To summarize, social networks are popular choices for enlarging your bank balance. The procedures of using such platforms to increase your income are super-easy, although tricky at times. Not only do you require investing time, but also you have to act smartly.
The platforms mentioned above will be beneficial if you adhere to the tips and tricks appropriately.
Author Bio:
Jais Frank is a freelance content writer and enthusiastic blogger. He is the co-founder of
Dream Land Estate. He contributes to many authority blogs such as SB Newsroom, and Emblem Wealth. He also likes to write in many international magazines and journals.