Top 5 successful Super App success stories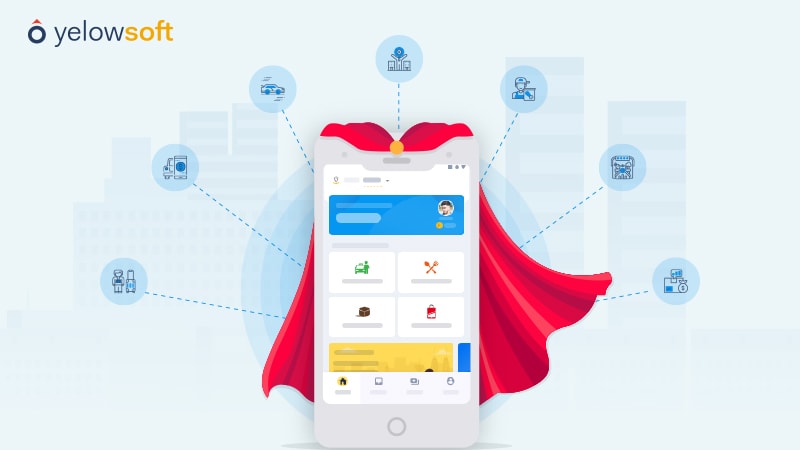 Ever think about an app that gives you access to get everything at a single place? Basically, a super app is a platform developed by a company offering various services under a single roof ranging from communicating with friends to booking a cab.
We can compare a super app with a shopping mall that provides retail space to various companies. It is an all-in-one app that can manage various needs of the consumer in one place from social networking, eCommerce, to goods delivery and financial services.
Making an on-demand delivery solution can be the best decision for the delivery businesses, as it can help them to expand their services. To build a super app, you can get a software development team or you can outsource your on-demand super app development to remote developers.
In this blog, we will discuss with you five use cases of prominent super app solutions that are earning good revenue in the global on-demand markets.
Popular applications of Super App Model
China's WeChat is the standard example of a super app that first started out as a messaging app. Then it gradually expanded into payments, cabs, shopping, food ordering, cab services to become a super app. So after the success of WeChat's all in one super app, we will probably see even more players competing to become a super app. Here are the top 5 super app successful stories:
1. Gojek
Gojek is the first-ever Indonesian on-demand super app platform established in 2010. It offers its services in the Philippines, Vietnam, Singapore, Thailand, and Indonesia. It is an on-demand super app that enables users to order food, commute, digital payments, shopping, hyper-local delivery, etc.
Currently, Gojek has more than 100 million users. It completes over 3 million orders every day. It is having 18+ products under its portfolio. Moreover, Gojek has a staff of over 2 million drivers. Along with this, Gojek has also employed specially-abled people for its various services.
2. WeChat
WeChat launched the mini-programs or mini-apps feature in 2017 that allow the developers to create apps within the ecosystem of WeChat. These apps reduced the users' worry about storage limitations, as now they do not need to download multiple apps on their smartphone.
With WeChat's super app, clients can book train tickets, wallet, news feeds, shopping, games, place food orders, or pay for city services and utilities. So, now the user will just need a super app rather than downloading different apps for everything.
3. Careem
Originally, Careem launched as a ride-hailing app founded in Dubai by Mudasser Sheikha. Gradually it evolved as a super app platform. Under which, Careem has started offering multiple services such as cab, hala taxi, bike taxi, food, shops, transport, delivery, etc.
Careem's super app platform has also covered Careem Shops, that allows users to order different products including groceries, recharge mobile, and other Careem services. While Careem Pay, the company's mobile wallet that allows users to transfer credit or recharge their mobile phones.
Careem might also introduce other features, including QR/offline payments in the future.
4. OMNi
Launched in 2019, OMNi is the first-ever super app of the Caribbean and Central America. It soon became the most downloaded app in Costa Rica's app store with over 5,00,000 downloads. OMNi mainly focuses on mobility, FinTech, lifestyle, and healthcare.
OMNi also signed an MOU with one of the largest EV scooter makers in the Asia region to launch the first mobility EV moped service in Costa Rica and Singapore.
It has partnered with Coopenae Bank, the largest financial co-op in Central America, to provide financial services.
5. Grab
Grab is Southeast Asia's popular super app. It provides its service in countries like the Philippines, Thailand, Indonesia, Myanmar, Singapore, Cambodia, etc. Grab also provides food delivery and payment services along with offering transport services.
Furthermore, Grab has also acquired the UberEats and Uber subdivisions in SouthEast Asia. It also invested in an Indonesia-based payment platform OVO. Moreover, Grab has also entered the payment sector by making a mobile wallet app called GrabPay as it wants to provide safe, convenient, and affordable payment services to its users.
Conclusion
The super app trend is going to be there in on-demand delivery markets. It will enable the delivery businesses to create valuable synergies that can cause higher user satisfaction, sustainable business growth, and higher revenues. Also, the customers form stronger relationships with a single provider, resulting in higher levels of satisfaction.
In this blog, we have discussed with you five success stories of super apps. So if you want to make a super app for your business or if you want to know more about it, then you can reach us at any time. Thanks for reading this blog.
Author – Bio
Mushahid Khatri is a Chief Executive Officer of Yelowsoft which is one of the leading ride hailing app develoopment. He believes in sharing his strong knowledge base with leaned concentration on entrepreneurship and business.