What are the health benefits of using a fitness app?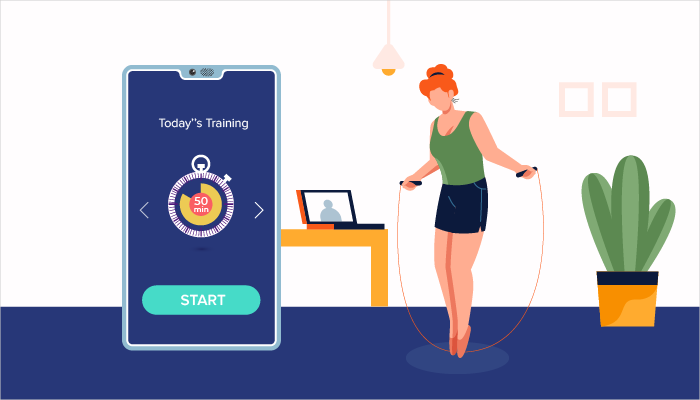 Keeping up with a healthy living can be very difficult for your gym instructors and keeping track of it is even more difficult. If they need encouragement, then keeping track of their activities could help them stay on track during their workouts.
Numerous fitness apps will allow your members to monitor their progress. Some apps are more mature than others and dependent on what they choose to monitor, their feature set can differ based on how the owner chose to leverage the fitness app development services.
This technology can be jaw-dropping, and it can provide great value to the consumer. For example, several apps sync up with the other devices (like weight machines, heart rate monitors, which are used to track progress.
The ability to heart rate train and monitor progression
Considering these advantages, what features do you demand in a strong fitness tracker and what features should your members of the class or client base expect in a new fitness app?
Heart Rate Tracking
Sounds easy enough, but to have an app that synchronizes with the member's heart rate and displays their history and progress are important. The age, weight, and other variables will advise users on their heart rate training areas, with the aid of getting better results.
Workplaces Promote Fitness
Nowadays, the workplace must enable its workers to manage their health and well-being better. Thus, they persuade them to participate in wellness activities and include financial incentives to do so. Worker examples: For example, some companies give their employees to refund of the fees for their gym or fitness tracker. It's a challenge to inspire them to maintain good health and keep fit. Furthermore, a few companies still have wellness centers where their employees can use them while they're not in the office.
Weight Loss Progression
How much do they weigh today? And how much do they want to weigh when they are finished? Users will be able to see their progression down to the date and time, with a successful application, of their weigh-ins. Furthermore, several apps connect to your scale, add the details automatically, and sync to wireless and/Bluetooth scales.
Blood Pressure Reading
Can the app sense blood pressure? Getting daily assessments of blood pressure readings will help the members see how they improve with their health and diet. People with a history of hypertension can use a fitness monitoring app.
Pedometer / Daily Steps
One of the must have features of a fitness app includes the ability to measure number of steps. The apps communicate with gyro censors to track user moments. Such an app will help to monitor the number of steps they take each day and track progress. The app can be interactive for them to challenge friends or family to see who's finished more steps than you.
Individually Customized Goals
One of the best things about maintaining good health and wellness is setting goals according to your specific needs. Your training objectives will be very different based on your ability and interest. The good news is that with most sports & wellness applications, you would enter your personal information and receive personalized guidance.
These are the apps' features. Be on the lookout for an application that can assess success and be viewed as a natural part of a members' training routines.
In so many different ways, varied ways, and significant ways, did the mobile fitness apps keep us safe. We saw how technology would help us on our journey to a healthier lifestyle.
These apps support people who are attempting to control their weight because they may foster a healthier exercise routine for those people. A diet full of plant-based foods, combined with regular exercise, will protect against unhealthy cardiovascular and cancer diseases.