Working Remotely? Consider These Top 5 Tips to Work Efficiently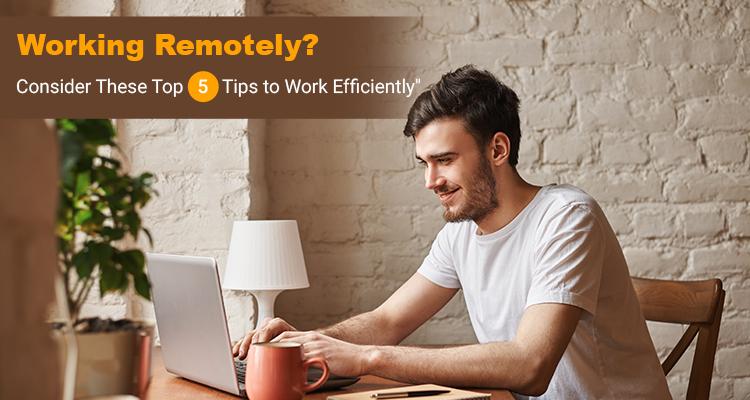 The Covid pandemic was certainly a devastating experience and impacted businesses all around the globe. However, several companies survived due to the facility of offering employees to work remotely. Considering the benefits of remote work, many companies have decided to make remote work their part of the culture, while others prefer a hybrid remote work model. As per Gartner, 31% of all workers worldwide in 2022 will be remote (hybrid and fully remote). It is certain that the trend of remote work is going to stay here. The following section of this blog will highlight the top 5 tips to work efficiently while in remote locations.
Eliminate distraction: While working remotely, dedicate one area for office work only, and eliminate all the distractions around it. The space should be far from noise sources such as television and other household chores. Also, make sure that it is well lit and ventilated. Besides the computer system, you should also see that all the necessary things are readily available, such as a notepad, pen, and other office supplies.
Ready with the backup plan: Remote work includes laptops, desktops, printers, Wi-Fi, Bluetooth, etc., and any technical glitch can disturb your remote work. It is recommended that you are up with your backup plans if any of this equipment fails. Also, while working remotely, there is a high risk that your system is exposed to viruses, so always try to follow the remote work practices to avoid unnecessary trouble.
Use tools to stay productive: Planning your daily tasks can help you to stay productive and finish work on time during remote work. Break your work into various sections and allocate a definite time for each task. It would be difficult to schedule tasks manually; the best way is to use remote work software to keep track of your tasks. If software costs are bothering you from planning your remote work, you can opt for the free and open-source remote work software.
Stay connected: Communication is not just essential while working in the office but it is also a prime aspect while working remotely. In fact, while working remotely, continuously keeping in touch with fellow mates is essential to complete the project successfully. You can use video conferencing tools to communicate with your colleagues in real-time. However, while working remotely, it is quite possible that your colleagues are working in a different time zone and may not be available when you are working. In such a situation, asynchronous communication can be quite helpful in communicating with team members. Again there are tools that support asynchronous communication.
Stick to your work schedule: Remote work gives flexibility on working hours, but sometimes working in odd hours (late night) can affect your work performance. It is advisable to follow a regular routine and stick to it. It helps to maintain consistency in your work and improve your performance. You can further enhance your work efficiency by prioritizing the work; you can complete your most critical tasks during the peak productivity hours.
Conclusion:
Post covid-19, companies are exploring their scope for making remote work permanent while employees are ready to embrace this new work style. Most employees do not face issues while working remotely, but few employees struggle with remote work. It is undoubtedly a new concept for many, however, the future can have hybrid models which gives the flexibility for the employees to work remotely, and also work from the office. Considering that remote work is going to become part of the employees' work style, Companies should rope in technologies and techniques that can help remote workers to perform their tasks more efficiently. We believe that the above-mentioned top tips can help your employees work efficiently while they are working remotely.