10 signs that indicate it's time to upgrade your business phone system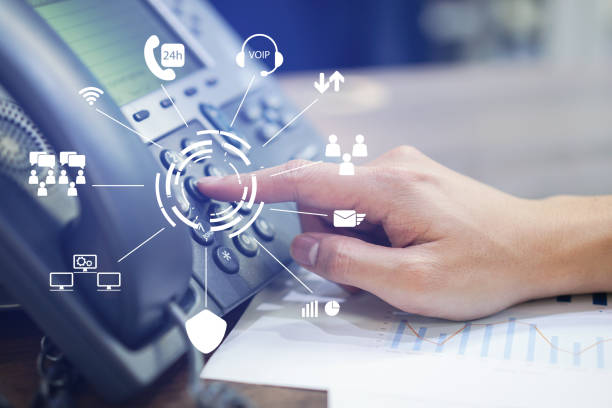 Having a business phone system plays a major role in the growth of a business. It is a comprehensive phone network designed to meet the specific communication demands of businesses. It can handle significant call volumes and provides extensive call management features.
As your business expands, the requirements for your business communication also increases.  Businesses need to upgrade their phone system to improve business quality and give the best customer experience.
We all know that technology keeps on evolving. Thus, businesses need to maintain their pace to keep up with their competitors.
So you need to keep tabs on your phone system to see if it's keeping up with your business needs and strategy. For that, let us go through the following 10 signs to be sure if it's time to upgrade your business phone system.
10 signs to upgrade your business phone system now
So, when do you think is the right time to upgrade your business phone system?
The answer is when your phone is unable to make a difference to your business. In other words, it's affecting the progress of your business.
Without further delay, let's have a look at the following 10 signs to know if it's time for you to upgrade your business phone system.
1. Your phone system is expensive.
Are you paying attention to your business phone bills? Well, you should because you might notice your phone bills getting high. This is the signal for you to upgrade your traditional phone system to the cloud.
A cloud-based phone system will save you a lot of money, about 60-70% less than a traditional phone system.
As you know, an on-premise phone system becomes more expensive because of physical infrastructure, licensing, maintenance, new telephone lines, technicians, and international phone calls. Such things are never a matter of concern in cloud-based phone systems.
Generally, a landline will cost 50$ for each line per month, excluding international call charges. But cloud telephony systems like KrispCall will cost you only about 15$ per month. Over the long term, you can make generous savings in your business just by replacing your landline with a cloud phone.
2. Your phone system is outdated.
The good thing about phone systems is that it improves over time. And if you have hardware-based traditional phone, it will eventually go out of date.
When a system gets older, it's harder to find compatible equipment to replace its failed parts. To add more, the old systems cannot support new and improved advanced features to keep up with current technology.
That's why your business needs new phone systems to get access to all the advanced features. A powerful cloud-based phone system will be compatible with today's equipment. On top of that, cloud phone systems get regular software updates to keep up with current technology.
3. Your phone system lacks the necessary features
These days, phones are not just limited to inbound and outbound calls. And with cloud phone systems, you are in for a treat to experience their sophisticated features.
A telephony system not only assists in making phone calls but also aids in workspace productivity. It gives you all the tools to organize the data of customers, employees, and sales. It gives you all the necessary details to make a good conversation with your customers for closing deals.
Cloud phone system introduces features like CRM integration, sales automation tools, click-to-call widgets, virtual phone numbers, and more. These advanced features improve work productivity and streamline the sales funnel.
Not only that, it provides regular phone features such as call forwarding, call recording, call routing, etc., for managing all your phone calls.
The best thing is that cloud phones introduce you to more business channels that allow you to send/receive SMS, video conferencing, live chats, and more.
If your business phone system does not have these features, you are seriously lagging behind in the competition.
4. Your phone system is fixed at one location.
You aren't available at the office all the time. It's impossible to take important calls at all times on your wired phone lines. This can slow down your business by 20-30% since you can lose potential clients/customers.
Cloud phone systems eliminate such issues entirely. You can conduct your business communications remotely from anywhere as long as there is an internet connection.
You can access your cloud-based phone system via desktop software or mobile application. With a mobile phone at your disposal, your business will always be in the palm of your hand. No one has to worry about their location or time as they can be available anywhere anytime.
After the COVID pandemic hit the world, the number of remote work has spiked exponentially. People have to work from their own homes. Businesses are able to sustain themselves in these difficult times because cloud phones have made remote work possible.
5. Your phone system cannot avoid outage issues.
We all have come across issues when our phone is not working. It's really frustrating to wait until the phone is fixed. You could miss many important calls during this time.
It's more frustrating for customers when they can't contact you and get what they want. Outages can seriously impact the customer's experience and decrease the sales rate.
Traditional phone systems can stop working because of problems such as natural disasters, old equipment, outdated systems, etc. It can dent your business's reputation and finances. Shifting your phone system to the cloud will protect against such risks.
Cloud phone systems will ensure you that they can handle any interruptions to their service and provide you seamless services.
6.  Your phone system is not secure.
There should be no compromise when it comes to security. There are always security risks that make your phone system vulnerable to attacks.
Security risks lead to leakage of data transferred through phone calls. In a traditional phone system, attackers can easily intercept audio signals transferred via phone calls to steal important information.
That's why the cloud phone system is superior, all thanks to its strong security and higher privacy. Communication channels have powerful encryption and logical call routing to prevent any attacks.
VoIP service providers integrate necessary accreditations ISO/IEC 20071, SOC 2, etc., to protect your data and information.
7. Your phone system has bad call quality.
Poor call quality is a big let-down for your business in front of your potential customers.
Issues such as choppy audio, background noises, call drops, etc., can damage the brand image of your business in the eyes of your potential or existing customers. It can really hurt business sales and marketing strategies.
A simple solution can improve the call quality drastically. That is to upgrade your old phone system to a new cloud-based phone system.
You will get high-definition sound thanks to VoIP service, which uses protocols like HD voice codecs. As long as you have sufficient bandwidth, you don't have to worry about call quality.
8. Your phone system lacks unified communications.
Phone calls are just one channel of communication. There are other communication channels like SMS, emails, live chats, video conferencing, etc., that are used for making conversations.
Traditional phone systems cannot integrate all the communications channels to work as one.
Unified Communications as a Service (UCaaS) is your solution to bring all channels together to streamline business communications.
A cloud-based phone system offers unified communications where all the communications channels are connected to one another so that you can easily track interactions in one single platform. It gives an omnichannel experience to your business and customers.
9.Your phone system has reached maximum users.
The on-premise phone system provides a limited number of phone lines. You can add as many agents as you want to the network until maximum users are reached.
However, if you want to add more lines, then it can get really expensive. You need to get separate wiring for the line, a physical location, and a separate phone.
But with a cloud-based phone system, you can easily add more users as you need. You may have to pay some extra charge, but it will be 70 times cheaper than a traditional phone system.
10.  Your phone system is not as it used to be.
Your business phone system has everything you need and was giving you good services. But now its services are gradually getting worse.
If you are contacting your phone service providers repeatedly to get technical support but are not giving proper assistance, then it's your cue to upgrade your business phone system.
Clinging on a phone system that is unable to provide good quality services is fatal for the future of your business. So, the best thing is to find a new and better cloud-based phone system to support your business.
Time to upgrade?
If your current phone system is showing at least one of the aforementioned signs, then it is time to get a new phone system. A business phone system should create a productive environment where you can view the success of your business in one place. Therefore, choose the best one to grow your business and happily connect with your teams and customers.