Backup Office 365 Mailbox Before Deletion – The Ultimate Guide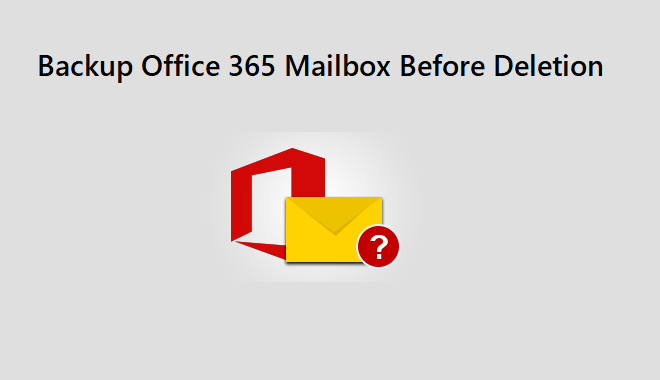 Backup Office 365 Mailbox Before Deletion – Easy-to-use Solution
You must be wondering what solutions there are to backup Office 365 mailbox before deletion. Well, there are a number of workarounds that you can use but some of them require technical expertise to fully understand and be able to take a backup of your data.
There are various reasons due to which a user might need to delete their mailbox in O365. Let's take a look at a user query which can help you understand what kind of situations lead users to backup the data.
User Query – I am moving from my organization to another one which uses some other email service that Office 365. I have been asked by my previous organization to delete my account from Office 365 which is why I need to first take a backup of the mailbox. I have not been able to find any technique easy enough for me to understand since I am not a techie. Please help me out here!
Find the solutions in this write-up but first, understand what reasons cause users to delete their data.
Reasons Leading to Users Deleting Mailbox from Office 365
Users may need to backup Office 365 mailbox before deletion for the following reasons for removing their account:
There are cases where some users might not be willing to use Office 365 as their email service provider anymore. They may be discontinuing the subscription of Office 365.
It is known that Office 365 offers limited storage space for the mails which is not sufficient for some organizations. This is why users might need to delete the mailbox containing useless emails but take a backup so that in case you need to use these emails in future, you have access to them.
As suggested by the user query, another reason could be a user moving to another organization. There might be a need for the user to delete his account from Office 365 but it has really important emails so requires a backup.
What Are the Techniques to Backup Office 365 Mailbox Before Deletion?
To start with the process, you first have to configure your Office 365 account with Outlook account. It is a must that your account has full control permissions to export the mailboxes.
Once you have given all the permissions, it will take sometime and then all your mailboxes will be displayed on the screen. You have to then go through the following steps once all the mailboxes are visible:
Launch MS Outlook program, open File tab and click on the Open and Export option.
From there, you will find an Import/Export option, choose it.
In the Import/Export Wizard, you have to choose the Export to a file option and hit Next.
Now, select the Outlook data file (.pst) as your export type and press Next.
Choose the folder you want to export and decide a destination location for the resultant file.
Hit Export and you will be able to backup Office 365 mailbox before deletion.
This method is an amazing and an easy-to-use solution but might not be feasible in some situations like in case you need to take a backup of multiple mailboxes, it is not possible using this method.
If you have large data on your mailbox and want to backup all of it, this procedure will take a lot of time since it is a slow process and loss of internet connectivity could take up more time than usual.
If there are more than one mailbox, this workaround will make it a complicated process since there are no possible ways to backup data in bulk with the help of this solution.
Also, in case you have not configured your Office 365 account, you will not be able to use this method to perform the task.
There is an alternative that you can use though to completely export your data without any hassles which would be the Office 365 Email Backup Software. You can use this tool to backup all the data in bulk in one go or selectively, whatsoever you prefer.
Finishing Points
If you want to backup Office 365 mailbox before deletion, you can do so following the method that we have mentioned. Also there are some reasons that make the users delete their account from Office 365 which are given in the write-up. You don't have to worry about deleting your account, just take a backup which is, anyway,  always a great choice and be able to access your data anytime you want.