How to Create a Workout App in 2021
Workout apps are gaining popularity. Why is it so? People rely more and more on the internet and smartphones. A personal coach at home is just the thing they want. Covid-19 has only accelerated this trend. For so many people working remotely and leading a not very healthy lifestyle, workouts apps seem the right solution. If this is so, your question as an investor should be "how to create a fitness app that people will love?"
According to Cision, the fitness app market size will total USD 13,016.77 million by 2025, and daily revenue totals about $1500 even without in-app purchases. Seems exciting? Read on to get an idea about the workout app industry. We will talk about the trends, success stories, features, cost, best practices, and more.
What are the Biggest Trends in Fitness Apps?
The pandemic of 2020 impacted the way people live and think.The fitness app market has revolutionized the social distancing code and is a new way to stay fit. More and more people go for digital. It's interesting to see what trends we expect in 2021.
Virtual coaching has room to expand in 2021. With so many people shifting to work-at-home practice, many of them prefer a personal trainer in their own setting. If you are thinking of offering virtual coaching apps, this is the right time. Even with the vaccine underway, many consumers will hardly go back to brick-and-mortar gyms.
Another thing that people love is their neighboring park. No wonder they do after strict lockdowns and restrictions throughout the year. Outdoor fitness is not a new trend but it offers new and new horizons in the fitness app market. Whether it's yoga or meditation, consumers will love your app at a local park or green space.
Today, the fitness app market embraces more than physical exercise. Mental health is as important and people start giving preference to meditation, yoga, pilates. If you are thinking about how to make a fitness app, consider this trend as it reflects the new mindset of consumers.
Artificial Intelligence, Augmented Reality, and fitness wearables – these are the trends to go. If you don't want to compete in a market without tools where digitalization is the king, you should think of fitness tech. Today smartwatches, fitness trackers, and wearables are not something unusual.
According to Statista, the number of wearable devices will be twice as much in the period of 2019 to 2022. Smartwatches are also expected to grow in number by over 50% in the year 2022.
Does this tell you anything about the fitness app market? Shift from the question of "how to make a fitness app" to the question of "how to create a fitness app in the right way" and you will need to face fitness technology by all means.
What Fitness Apps Earn Big Bucks?
According to Statista, Fitbit is leading at Google Play Store with over 1.8 million U.S. dollars in revenues from Android users. The second app with 1.6 million U.S. dollars in revenues from global users is Calm.
The list continues as follows:
Calorie Counter – MyFitness Pal – 1.2 million USD
Headspace: Meditation and Sleep – 1.2 million USD
YAZIO – 1.1 million USD
Strava: Track Running, Cycling & Swimming – 1.1 million USD
Feeletics Training Coach – Bodyweight Fitness 846 thousand USD
Lifesum- Diet Plan, Macro Calculator & Food Diary – 716 thousand USD
SWEAT: Fitness App for Women – 562 thousand USD
Fastic: Fasting App & Intermittent Fasting Tracker – 476 thousand USD.
What Are the Top 5 Most Successful Apps?
By successful, we mean the number of users and the number of downloads. According to these criteria, here are the topmost successful apps.
Leading by the number of downloads
Mi Fit – 2.32 million
Lose Weight App for Women – Workout at home – 2.21 million
Home Workout – No Equipment – 1.94 million
Aarogya Setu – 1.77 million
Six Packs in 30 Days – Abs Workout – 1.54 million
Leading by monthly active users
Fitbit – 27.4 million
MyFitnessPal – 19.1 million
5 Health (for Samsung) – 14.9 million
Weight Watchers – 3.7 million
Google Fit – 2.6 million
Fitness App Features
How to make a fitness app that people will enjoy? This question arises in front of many investors and developers. And the answer will definitely depend on the type of features you will include in your app. Some features are must-haves. Others are unique for the type of app.
Let's look at some must-have features.
Now let's have a look at some features that are optional but add value.
We won't go through these features one by one. Instead, we will present you with a graph with info on why people use fitness apps. Depending on each category, your features may change.
As you can see the leading reasons for choosing a fitness app are goal tracking, awareness of health issues, and motivation. What features should you include in your app as an investor in order to satisfy these user demands? Of course, you will choose some basic features like activity tracking, calorie counting, and goal setting. But that's not the whole story. You need to provide additional functionality like geolocation, voice control, gamification, live streaming, integration with wearable devices or mobile device functions, and so on.
Learn more on how to create a fitness app.
Benchmark for Key Fitness Apps KPIs
Here is a benchmark developed by App Growth Network for the most important app metrics – the Key Performance Indicators (KPIs). The metrics are divided into three categories: marketing, product, and business.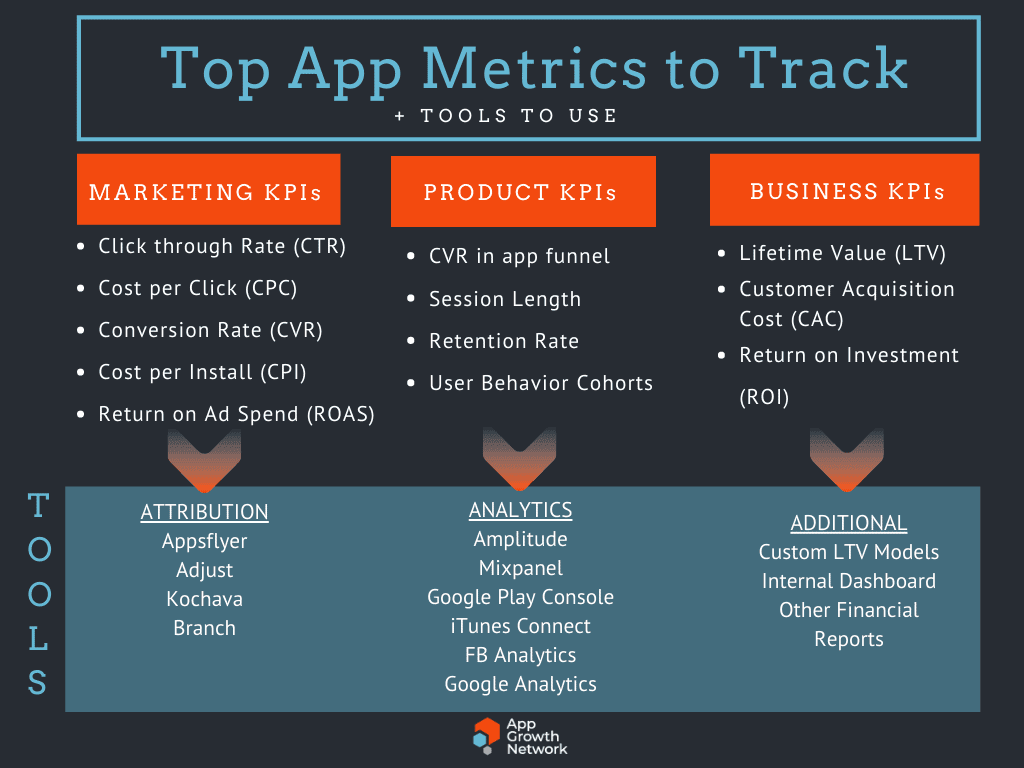 Instead of going through each of these categories, we will come up with questions you should ask yourself when you are measuring your app's performance.
Question 1
What is your app's App Store rating?
Question 2
What is your users' behavior (when, how often, how long do they interact with your app)?
Question 3
Where are your users located?
Question 4
How are users accessing your app? On what devices?
Question 5
What is your retaining rate?
Question 6
What is your app speed? Does it crash?
Question 7
How well does your push notification system work?
Question 8
What is your conversion rate?
Now that you know all these, let's get to the money issue. It goes without saying that the budget of your app will depend on the functionalities, features, and complexity of the app. However, to give you a rough estimate, here is what you can count on.
The location of the development team is a factor to consider. Here is an estimate of average hourly fees for different regions.
US and Australia     $110/hour
Western Europe       $80/hour
Eastern Europe        $50/hour
So, hiring developers through an Eastern European country like Armenia can cut your costs in half.
To make it even clearer, here is the number of hours required for each feature.
| | | |
| --- | --- | --- |
| Feature | Minimum hours | Maximum hours |
| Registration, login, password recovery | 30 | 60 |
| User profile | 10 | 20 |
| Social media integration | 10 | 40 |
| Personal information | 8 | 30 |
| Push notifications | 15 | 40 |
| Goal setting | 5 | 20 |
| App settings | 8 | 20 |
| Customizable exercise database | 20 | 80 |
| Gamification | 40 | 100 |
| Live streaming | 80 | 120 |
| Integration with wearables | 20 | 100 |
| Geolocation | 20 | 40 |
| Pedometer, sleep monitoring | 18 | 48 |
| Barcode scanner | 4 | 24 |
| Product database | 6 | 30 |
These are just rough estimates and your outsourcing team will give you the exact estimate.
Fitness App Development Best Practices
Now it's time to look at some best practices for fitness app development.
While there is no surefire way of building a successful app, some practices have proven to be workable.
Where to start? The first thing to do is to know the market and your competitors to identify the gaps. You can check out fitness apps at Google Play and the Apple App Store. Look at their features, functionalities, compare prices, and most importantly read the reviews.
The second thing to do is to know the target audience. You can create polls, analyze data, document it, and modify your primary idea according to findings. After you modify your idea, come up with the new version to the target audience again and see who expresses the most interest. These are early adopters and they may represent a group for your potential users.
After you do this, you should know the gaps in the market and the demands of early adopters. Now it's time to think of some features that will make your app unique. What you can do is to take an existing app and make it better or more specific. For example, you can narrow down your target audience or offer more specific workouts or features.
Finally, it's time to choose an experienced outsourcing team that will develop your app. You have several options: to hire freelancers or to hire an outsourcing team. Hiring a company is the best solution as they will be responsible for the whole project from A to Z.
Companies in Eastern Europe seem to be the most reliable partners at a reasonable budget. So, if you want to find quality and not spend big bucks, Eastern Europe like Armenia or Ukraine is a way to go.
Final Words on How to Make a Fitness App
The fitness app market offers abundant opportunities especially after the devastating year of 2020. Consumer behavior has changed and most customers are unlikely to change already acquired habits. You just need to have a unique idea and carefully select the vendor in order to be satisfied with the end result. And you never know what surprises life has got for you.
Author Bio
I am a technology writer and Product manager at Addevice, a mobile app development company. I'm a content enthusiast who keeps a tab on most sites that take this niche to the next level. I am pleased to be able to share my knowledge with people who are looking for valuable information to learn more about application development motivates me and inspires me to create better content.