iDenfy launches an enhanced phone verification solution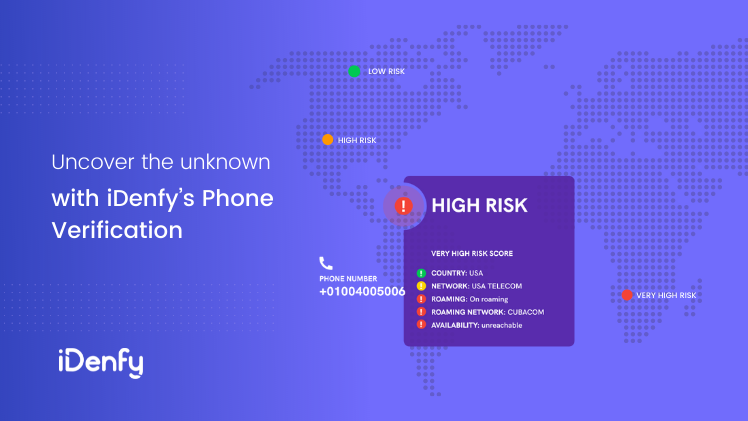 Phone verification is part of Know Your Customer (KYC), which is a process of verifying the identity, suitability, and risks involved with a client when companies wish to establish a formal relationship with them.
The specific rules and regulations related to KYC are constantly shifting and evolving. For example, the 5th Anti-Money Laundering Directive (5AMLD) was drafted in January 2020 and focused primarily on beneficial ownership, electronic identity, and for the first time, virtual currencies.
According to iDenfy, knowing the relevant information about a client is only part of the process – verifying the provided information is the most crucial part of KYC. People's data has become very sensitive, and the data protection regulations, such as GDPR, aim to mitigate the risks of it being leaked or abused. Additionally, people now have a right to access the information on what personal data any company has collected on them.
Even then, certain cases draw attention to the importance of identity verification in GDPR. In 2019, Oxford University Ph.D. student James Pavur managed to successfully receive sensitive information about his fiancée from a quarter of the companies with such data. All he had to do was send the GDPR request in her name and provide an email address and/or phone number as verification of identity.
The experiment of James Pavur proved how little information you need to know about a person to receive a lot more. Who knows how many fraudulent actors are abusing the lack of internal security in businesses to do just so? iDenfy says the issue could be easily solved with simple phone verification, which requires an extra step by the person to verify their identity. Usually, the client will receive a text message with a specific code and will have to enter it to confirm the telephone number is accurate or, in this case, to verify the identity of its proposed user.
Even though many phone verification solutions are available on the market, iDenfy claims its product stands out with a built-in risk assessment feature. It will calculate a risk score from a set of data points behind the phone number, taking country of origin, original and current network, roaming status, availability, contract conditions, and validity of the number into consideration.
Specific markers listed above can indicate that something fishy is going on with the number provided. iDenfy will give a risk score in accordance with that. Companies can then choose what action to take.
"Today, no phone verification solution can be reliable without a background check system surrounding it. There are simply too many tools to bypass the traditional text message verification, and the fraudsters take advantage of them. With our solution, companies can feel a lot safer about the whole process. As face-to-face interactions are much rarer today than in the pre-COVID-19 times, businesses should utilize every tool available to ensure security and transparency," said Domantas Ciulde, CEO of iDenfy.About iDenfy  
iDenfy, a platform of identity verification services and fraud prevention tools, ensures AML and KYC compliance for every company – from large-scale businesses to small organizations. The rapidly growing business was named as the best "'Fintech Startup" in 2020. The company also received recognition for winning a Baltic Assembly Prize for innovation in 2021.
For more information and business inquiries, please visit www.idenfy.com.