The Importance of Professional Phone Answering Support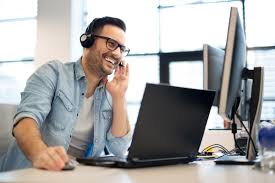 Companies have a lot on their plate to maintain operations. Answering all incoming calls might become a demanding undertaking, from administration to scheduling appointments and business closing and opening tasks. Professional phone answering services provide proven benefits to businesses of all sizes.
Why Pick Professional Phone Answering Support?
Professional phone answering support may provide excellent customer service for a fraction of the price of an in-house operator. It guarantees that inquiries are always responded to on time and devotes more time to handling business chores to assure that committed clients are pleased with the firm.
Excellent Customer Support
Professional phone answering solutions are committed to providing excellent customer service. Promote organizations by providing high customer service that leaves clients happy when they reach out.
Customer Loyalty and Satisfaction
When a consumer calls expressing a need, they will be relieved to speak with a live agent who is extremely attentive. Small businesses might profit from this type of service by developing a loyal client base.
Many calls go unattended whenever answering the call is delegated to staff who are already overloaded with important responsibilities. Customers will not be routed to voice messages or placed on wait for an indefinite period while using a call-answering solution.
Cutting Expenses and Save Money 
Employing an in-house secretary to handle a company's phone calls may be expensive, especially if we want them to operate throughout the clock to guarantee the phone is responded to. The 24-hour answering solution guarantees that calls will be answered outside work while addressing client queries following our firm's requirements.
More Space for What Matters
Entrepreneurs have a lot to deal with and a limited time to complete everything. They may attend to the critical duties that keep things moving by leaving phone conversations in hands of a real answering provider.
Advantages of Professional Phone Answering Support
Here are some of the major benefits of leveraging the services of a phone answering service provider.
Expertise in Call Answering
We may not recognize it, but answering the phone is a talent. Although we've all answered a lot of phone calls, we need someone with experience in the field answering the phone when it comes to the company. That is precisely what we receive from a phone answering service.
Customer service is becoming one of the most important differentiators between firms. It is getting increasingly hard to offer a unique product due to the internet but giving a distinct degree of customer care is always viable. A phone answering service is an excellent way to enhance customer support and distinguish yourself. An answering solution assists in extending operation hours and reducing hold times. These two measures will enhance the customer experience tremendously by creating it much simpler for consumers to get in touch.
When we hire a phone answering services our company is covered 24 hours a day, seven days a week. 24/7 coverage is vital since it allows you to deliver excellent customer service and gain more business. We now live in a culture that operates around the clock. If you have a website, it implies our company is always open, and clients may call in with questions at any time of day or night. We fear losing business if you are unable to answer their calls. With a phone answering service, we may not only get that business, but we can also promote that you will be open 24/7, providing us with a significant edge and unique selling point over competitors.
Receive Calls to Increase Sales
A phone answering service, like leads, may assist in converting more callers into buyers. Ensuring that a person is always accessible to accept every phone reduces the likelihood of a client shifting their business somewhere else whenever they can't reach through. A phone answering service may also improve sales by guaranteeing that every caller receives excellent customer care, portraying firms as dependable.
Add Character with Phone Answering 
Personality is among the most important qualities that will keep consumers coming back to purchase from an organization over and over again. If a company has character, individuals will think that they recognize, trust, and desire to purchase from it.
Conversations with actual people help shape a company's personality. When we employ a firm with 800 answering services, each call is handled by a live person. This offers company individuality and assists in developing deeper customer ties.
Create a Concentrated Work Atmosphere
Whenever employees are at work, we want everyone to concentrate on the task. Pausing to answer phones, or even the sound of ringing phones or staff members chatting with clients might divert their attention away from their job. We don't have to worry about this with a phone answering service. Our staff can concentrate on their main responsibilities, knowing that a staff of customer service professionals is handling all inquiries.
Conclusion
A competent answering service has significant advantages for organizations of all sizes. Employ a virtual answering solution to free us and our workers of the burden of answering phones. When we implement the recommendations mentioned above into our phone etiquette, there is a greater possibility that potential leads will become regular customers.