How to Record a Call on iOS without Knowing Someone?
There could be numerous reasons you want to record a call on your iOS device. It could be a customer call, conversation with your friend, job interview, or anything else that you want to record. The problem is, recording phone calls on iPhone is blocked, period. Apple doesn't allow third-party apps to access the microphone and the integrated phone app directly.
So, what is the solution? Well, there are call recorder iOS apps that offer a workaround to record calls on your iOS device. In this article, we have discussed some of these best call recorder apps for iOS you should download in 2020.
How to record calls in iOS manually?
Before we discuss call recorder apps for iOS, let's discuss how to record calls in IOS manually. To do this, you should be on iPhone that supports 3-way calling and visual voice mail as per systweak. Once you have started a call on iPhone wait for Add Call option to appear. Once it is there, ask for the permission for call record from another person on call and click Add Call button. Now dial your own number and stay on the line to listen greeting from your own voice mail. Now you will be indicated that the recording has begun. Click Merge Calls to merge all three calls. Here, the third call will be recording the other two. You can access these call recordings in voice mail messages.
5 Best Call Recorder Apps for iOS
So, the manual method requires permission from another person on call. To find a better solution to it, you can try the best iOS call recorder apps. Let's review some of these apps here.
Rev Call Recorder
Rev Call Recorder is an iOS call recorder free app. It allows you to record unlimited calls on your device. It offers a one-click step to start recording calls. Though, it has a limitation as it only allows recording US phone numbers.
This smart call recording app for iOS doesn't annoy you with intrusive ads. You don't even require subscribing or paying for per-minute fees. It records both incoming and outgoing calls for free. It offers high-quality recording and playback features. You can even share and export your recordings without restrictions.
Call Recorder Pro – Recording
Call Recorder Pro offers an effective solution to record your all incoming & outgoing calls. It stores all your call records in the private accounts which you can share across networks and cloud servers easily. You can initiate a call record during the call to save it for your records.
It works on a simple & intuitive interface for easy recording. You can store and move these call records to a new device if needed. It allows you to share the recording via SMS< email, social media apps, and more. You can even rename or label these recordings for easy search. For better user experience, it offers responsive customer service with real humans.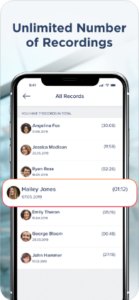 Try this one of the best call recorders for iOS to record all your incoming & outgoing calls on your device. You can try its free trial to explore various features. It works on a simple mechanism where you can record all calls with just a tap. You can save and access these records on local storage anytime you want.
It even allows you to share these call records easily with friends. It allows you to record unlimited conversations in a user-friendly manner. You can talk to their premium customer support for any issues you face with call recordings.
TapeACall Pro: Call Recorder
TapACall Pro is the number one app in many countries that offers various useful features to record, store, and share your call records. It is available for $10.99 and offers an in-app purchase to help you explore various features of the app. Once you have call recordings, you can upload them to Dropbox, Evernote, and Google Drive.
You can also share these recordings via different mediums. You can play recordings in the background. It also sends notifications for easy call recordings management.
Call Recorder – IntCall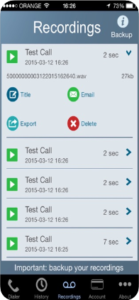 Call Recorder is one of the best call recording apps for iOS that allows you to record all national and international calls effortlessly. It stores all recorded calls on local storage and allows you to share them across networks. You can even transfer call records to your computer via iTunes File Sharing.
It helps you set a title for each recording for easy search and call records management. You can download this app for free and explore various features with in-app purchases.
Conclusion
So, this was a quick discussion on best call recorder apps for iOS. Do try these apps to record a call without knowing someone. Don't forget to share your experience in the comments below.