How to Use Software to Hack Yahoo Mail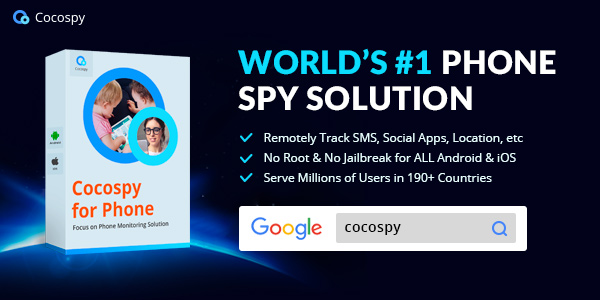 Wondering what's in your husband's Yahoo mail or how your minor kid is using Yahoo mail? Well, we have something that might interest you.
Yahoo mail is one of the most commonly used mailing services helping millions of individuals to stay connected with the rest of the world. While its benefits are ample, incidents of its misuse are also very high in number.
For instance, you can be a victim of phishing by simply clicking on a Yahoo mail or a virus can make your PC its home with a Yahoo mail. All these are real-life scenarios and have caused a lot of trouble for the people.
If you don't want to become a victim of this then try hacking the Yahoo mail of your loved ones and keep them safe. In this post, we will talk about one post that performs this job with full perfection.
Cocospy – Yahoo Mail Spying For Highest Grade
Cocospy is a purpose-built remote phone monitoring app that can be used to hack Yahoo mail. Its advanced technology can help you hack any Yahoo mail at zero hassle.
Millions of people have already used it for various purposes and none was left disheartened or disappointed. Its features and facilities are available for use in more than 190 countries at no additional cost.
Cocospy is so good in its job that leading media houses like The Forbes, PCMag, and many others were forced to sing in its praise. Cocospy has been featured as the best Yahoo mail hacking app by many. You can check it here.
Such names and fame don't come easily. There are reasons behind it and those reasons are jotted down below for you.
There are no risks involved
Try any other way, which involves rooting/jailbreak, for Yahoo mail hacking and you will be fed-up seeing the risks involved. It is very common to have compromised phone security and reduced phone performance in this process.
When not managed properly, these risks can lead to serious issues. This is why not everyone is comfortable trying Yahoo mail hacking with the help of these two activities.
Gladly, Cocospy works differently.
Its ultra-modern technology is 100% free rooting/jailbreak. Hence, no such or many other risks will haunt you.
Also, Cocospy doesn't save data on the server while working online. This simple step ensures greater safety of your crucial data as no cyber vulnerabilities are eyeing for it.
In short, there are no risks to haunt you or give you sleepless nights.
Your secret is a secret till the end
Cocospy cares for you more than anything as it ensures that your secret is always secret. It conceals the fact that you are hacking others' Yahoo mail completely. To make this happen, it uses stealth mode.
Yes, the app comes with an in-built stealth mode activation which leads to complete concealing of the app's icon from the home page and app list page completely.
Though the app would be downloaded on the phone and functional, its presence would be unnoticeable.
Wait! We are not done yet.
There is one more way via which it covers your track and it is its remote dashboard. Its dashboard can work remotely and doesn't force you to stay around the targeted person to fetch the details.
So, you need not helicopter your target to know which Yahoo mails/he is receiving or sending. This job can be done from a mile away.
Using Cocospy is a piece of cake
Before Cocospy happened, hacking someone's Yahoo mail was the job of experts. As there are many technicalities involved, not everyone can try their hand over it. Then, Cocospy happened and it turned everyone into a hacking expert.
Cocospy offers a simplified process for both iOS and Android solutions.
Cocospy for iOS has a web-based interface and can be at your service without any installation or set-up. Also, it can be used over any device or browser. In short, no special techniques and tools are required to access it.
Cocospy for Android is a very simple and compact Yahoo mail hacking app. Using this app and setting it up on the target device won't be a daunting task as it shares great similarities with any regular Android app. You don't have to be an expert to use it.
The app is less than 2MB in size and takes only 5 minutes for the entire set-up and installation. For further assistance, you have a free live demo on the website and a helpful customer care support system.
Complete assistance
Yahoo mail hacking is not the only job that you can accomplish using Cocospy hacking software. This single tool is capable to perform multiple other jobs with full perfection. It can be used to keep tabs on around 35 phone activities along.
Call history, SMSs, web browsing history, installed apps, social media platforms, notes, contacts, phone cameras, and almost every other activity that one can do using a phone can be tracked or hacked using Cocospy.
The world never saw something like this. If you have it then there is nothing to be worried about. It will answer all your hacking related queries.
Data of the highest quality
When we are hacking others' Yahoo mail, the first thing that we expect is quality data. Software that will capture poor or faulty data is of no use as it won't help you in your purpose. Cocospy captures data in real-time and delivers it with timestamps.
With timestamps, you will have a detailed understanding of everything as you can find out which activity happened when.
Also, data delivery is without any third person's involvement. Data delivery is direct. You will get every detail on your dashboard.
So, you will have quality data by all means. Another shocking fact about Cocospy is that all of these features and facilities can be availed at a very cost-effective price.
The monthly expense with the premium subscription of Cocospy is only $10. Yes, it is that cost-effective. So, you have quality and cost-effectiveness in one go.
Ending notes
Cocospy Yahoo mail hacking software is a bone to mankind as one can use it without any risk and have a hold of quality data without pocket pinching. Try it and find out more.