OneDrive Tenant To Tenant Migration Tool – Comprehensive Migration Guide
If you have reached this page then, most probably you are looking for a solution to perform OneDrive migration.  In this write-up, we are going to deliver one of the best OneDrive Tenant To Tenant migration tools, for taking place data migration projects easily in Microsoft 365.
But before jumping into the solution, let's have a quick glance at a real-life situation.
Scenario 1 –
Migration need for OneDrive to a Different Microsoft Office 365 Tenant
My firm is Planing to transfer Microsoft 365 data to another account and their priority is to transfer OneDrive for business to a different tenant. Can anyone provide me any tool for this task? Thanks in advance.
Scenario 2 –
Need to Migrate OneDrive to Another Tenant in Microsoft 365
We have just consolidated with another Microsoft 365 account, now we have the urgent need to migrate the entire data of OneDrive. We are looking for an easy solution or tool for the same.
Due to the rapid increase in Merger & Acquisition, leading the organizations to deal with multiple migration projects in Microsoft 365. Microsoft did not provide any automated tool or direct solution to carry out-migration.
Hence, we suggest you try the best OneDrive Migration Tool and easily migrate OneDrive data in Microsoft 365. You can download the demo version of this tool and perform this complex task just in few clicks. You can self verify the performance, and reliability of this tool without paying anything.
Some of the Silent Features of OneDrive Tenant To Tenant Migration Tool
It migrates Documents & Files between OneDrive accounts
It can migrate multiple user OneDrive accounts using admin accounts
It is able to migrate the permissions along with documents
It supports Windows 10 & below versions
It supports bulk data migration
No file size limitation
It provides an option to Pause/Resume/Stop the migration process
The above-mentioned features are only a few there are many more. And in this way, this tool makes the complex process into easy and simple steps. A simple and clear UI provides the users a seamless and personalized experience.
More Awesome Features of the Best OneDrive for Business Migration Tool
Maintain Folder Hierarchy – This tool maintains the files and folder hierarchy throughout the whole migration process. Which makes data management easy for users.
Keeps Data Integrity – This tool keeps the data intact, in the other words, it migrates data to the destination account without hampering the integrity of resultant data.
Date Filter – It also provides an option to filter the desired data according to a date range, for selective data migration.
Re-Run Migration – It provides three different options to re-run migration for failed items, newly arrived items, and skipped items, without creating duplicate files.
Group User Mapping – This feature allows users to create a group mapping between the source and the destination tenants in Microsoft 365.
Working Steps of OneDrive for Business Migration Tool
By using this tool, the users can perform this task just in few clicks, with maximum data security and integrity.
Step 1. To start with the steps, you need to download this tool on your Windows OS computer. After downloading it, run it and select Office 365 as the source and the destination platforms.
Note: This is a high-performance tool, that is specially designed for carrying out multiple types of data migration projects in Microsoft 365.
Step 2. In order to migrate only OneDrive data, you need to check the "Allow Document Migration" button and also you need to enable the "Migrate Document Permissions" option. You can also use group mapping and in order to do so, you can check that option too.
Note: For users, convenience this tool has been integrated with a Date Base Filter, that allows users to transfer the data selectively, respective to a particular date range.
Step 3. Here, Use the Admin account credentials i.e Admin ID & Application ID of the source and the destination, and login and click on Next.
Step 4. Now you can create user group mapping between the source and the destination, in order to this, the utility provides us three different ways Fetch Users, Import Users, and Download templates. You can choose any of these and create a mapping.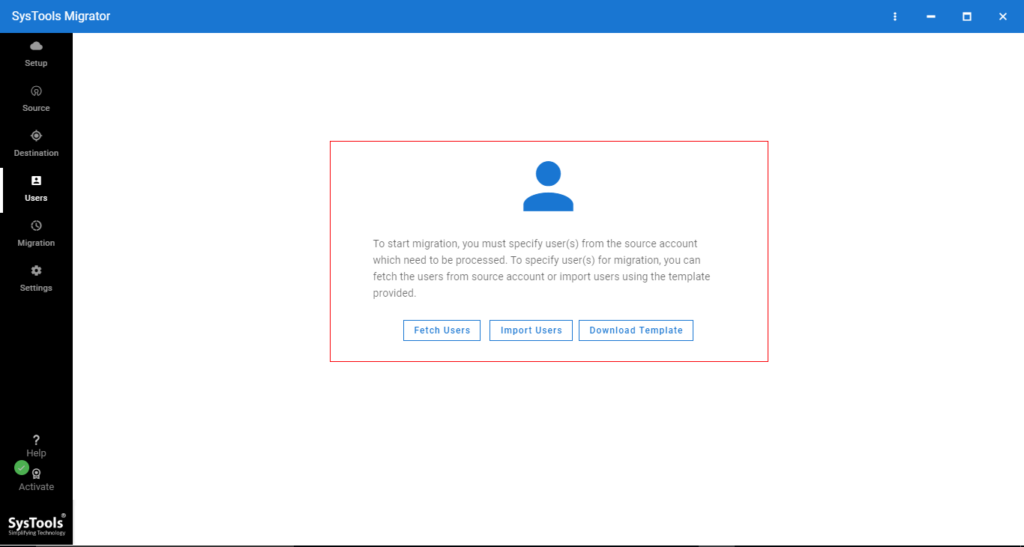 Step 5. Here, you have to click on the validate button in order to let the OneDrive for Business Migration Tool validate permissions.
Step 6. This is the last step, you need to click on the start migration button and after some time the migration project will be completed safely.
Conclusion
Several users of Microsoft 365 seek a proper solution to the query i.e how to perform OneDrive migration easily. Hence, In this article, we have come up with a secure, reliable, and trusted application i.e OneDrive tenant to tenant migration tool.
The above simple and guided steps make this migration process extremely easy for users who are not even having any prior technical knowledge.